This guest post was written by Claire Fischer, editor of the FlipKey Blog, a vacation rental company. Claire loves to travel, eat, and share her experiences with those around her.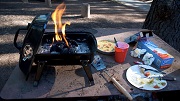 This past summer my boyfriend and I took our first camping trip together. We lived in Boston and decided to head out west to explore new territory and visit Yosemite National Park for the first time. While my boyfriend loves the outdoors, he had never even been camping outside his front yard before. I should also mention that he is a professional chef and unwilling to compromise food quality for his love of nature. Not only did we have the most amazing adventure in Yosemite but we managed to eat quality meals that did not disappoint our taste buds. So here are a few tips for how foodies can camp too.
1) Be Resourceful:
If you are new to the camping world, chances are you are not going to have all the fancy gear like fold up pans, jet boils, or other propane stoves. However, if you have access to a fire pit that is pretty much all you need. With two simple cooking materials you can cook a variety of foods without breaking the bank. So without further ado I introduce to you your new best friends: Heavy Duty Aluminum Foil & Aluminum Pie Pans. Wrap up just about anything in aluminum foil to throw it in the fire and be cooked 10 minutes later. Pie pans are great for heating up chili, scrambling eggs, and even making a frittata. Both items can be bought inexpensively at any grocery store making it ideal for those who traveled by plane.
2) Simple is delicious:
Don't try to replicate your kitchen at home. Accept that you are camping and do not have access to the same appliances and luxuries. There are numerous simple meals that can be made over a campfire and those are the ones that will taste the best. Here are a few simple menu items that can easily be made while camping, yet leave you room to spice it up.
*homemade burgers (don't forget the brioche rolls, seasoning for your burger meat, or the butter you can put in the center of each patty to give it more flavor)
*Scrambled eggs with diced tomatoes and pesto (bring your favorite pre-made local pesto)
*Baked Apple with butter, brown sugar, and cinnamon (slice up your apple, season to taste, wrap in foil with butter and sugar and bake in the fire pit)
3) Be Open Minded:
It is easy to assume that your camp food doesn't have to taste as good as the food you cook at home or that you will survive off of trail mix, granola bars, and beef jerky from the gas station. But if you just loosen up a bit and look at the bigger picture you'll see there are things you have control over such as the groceries you bring and what quality ingredients you pack. You also have the option to prepare your meals ahead of time — although this may be harder for those flying to their destination. Camping is what you make of it, and if you are a foodie- then camp like a foodie.
We gladly accept quality, unique, guest blog submissions. Please contact us if you'd like to share your post with us.