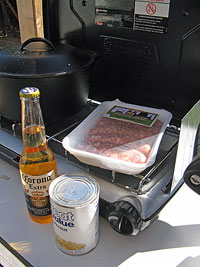 Hamburgers and hotdogs are a regular camping meal for most people, including our family. Sometimes, though, the regular meals get a bit boring and we like to spice it up with beer sausage, which is equally simple to prepare and tastes a lot better than a hotdog. The biggest problem with cooking a decent beer sausage is actually finding good sausage. For this meal, we tried "Hofbrau Brats" from Trader Joe's® and they were just okay. Like almost all sausage that you can buy in a grocery store, they were a bit greasy. You are much better off sampling the sausages from local meatpackers and sausage makers in your local area. If that does not pan-out, the next best option is to go mail order from a reputable sausage house, like the Mt. Angel Sausage Company, in Mt. Angel, OR. I really like their Fricadelwurst, which is a very lean, spicy chicken sausage.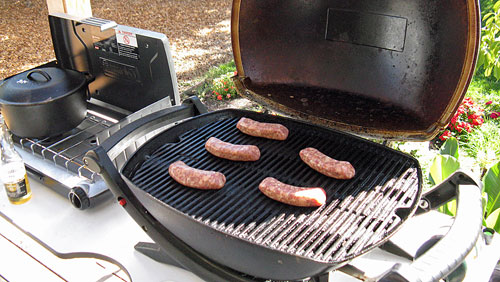 The first step to beer sausage perfection is to combine the sauerkraut with half a bottle of (preferably) pilsner beer and just a bit more water – about one cup. I used Corona® for this batch, which lacks the hoppy flavor of a good pilsner, but it's a popular summer camping beer here in California.
With the kraut in the dutch oven, it's time to take a look at your sausage casings, or the skin. Ideally, you want a sausage with thicker, tougher, casing so that you can simmer it longer in the dutch oven, which allows the flavors of the kraut and beer to blend better with the sausage. If the sausage has a light, thin, casing, then you are limited to about an hour of simmering before the sausage starts to fall apart.
When it's time to grill the sausage (immediately for thick casings, an hour before meal time for thin), cook them just like hotdogs – about 5 minutes per side at 300 degrees. Then transfer to the dutch oven and simmer.
As all of us who camp with gas stoves know, simmering can be quite a challenge over these hot burners. One trick I use is to offset the dutch oven from the burner so that it is not entirely over the direct heat from the burner.  The liquid will boil-off throughout the cooking process, so be sure to keep adding beer and water, periodically. Provided there is someone at the campsite, this meal can be started anytime in the morning, and the sausages will be ready whenever people get hungry throughout the day.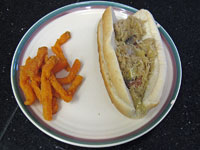 The proper way to serve a sausage is to smother it in kraut and a hoagie bun holds a lot more kraut than a puny hotdog bun!  Sweet potato fries are another welcome break from the regular and add another interesting flavor for your palette.
See also…