Food safety is an often overlooked discipline when it comes to family camping in the backcountry. At least until somebody gets sick, that is. Most food poisoning is caused by bacteria, which is in the soil, air, water, and the foods we bring camping with us. In small quantities these bacteria are harmless, but when conditions are right the bacteria can rapidly increase in number to a point where they can cause illness.
When it comes to camping food safety, the big challenge is keeping perishable food at 40-degrees, or lower. Bacteria can grow rapidly at temperatures between 40 and 140 degrees and there are no tell-tale signs of dangerous bacterial growth, such as taste, smell or discoloration.
Most of us are familiar with food spoilage, which is easy to spot (or smell!) when our food gets old, but spoilage is caused by a completely different type of bacteria than the kind that causes food poisoning (called "pathogenic bacteria"). Spoilage is usually not a problem for most campers, because our camping trips are relatively short.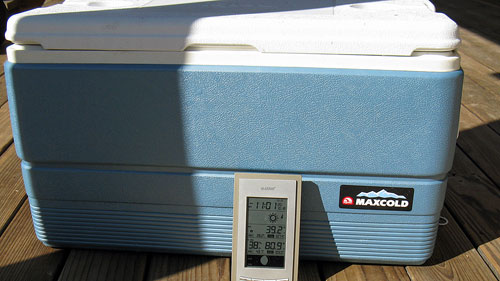 The best defense against an outbreak of pathogenic bacteria in camping food is a good ice chest with a lot of ice. I have tested our 70-quart Igloo® MaxCold™ ice chest, on an 80-degree summer day, to find out how much ice it takes to keep the internal temperature at 40-degrees. I initially tested with two milk jugs (I make my own block ice with 1-gallon milk jugs), which could only keep the ice chest at 45-degrees. Next, I switched to three milk jugs and this seemed to do the trick, keeping the cooler between 38 and 42 degrees throughout the afternoon.
Different types and sizes of ice chests will perform differently, however, so it pays to test your own. All you need is a way to measure the inside temperature, preferably without opening the lid. I used our weather gauge, which has remote sensor for measuring the outside temperature – I just placed this sensor on top of the food, inside the ice chest.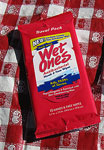 Another challenge we all face when camping is cleanliness. Everything that comes into contact with food should be clean. This usually means a lot of antiseptic wipes and waterless hand cleaner, unless you have ready-access to tap water in the campground.
Something that we find extremely beneficial is to prepare much of our camping food ahead of time, at home, and freeze it. It's much easier to deal with individual frozen hamburger patties at the campsite, than several pounds of raw hamburger and the associated mess that creates. In addition, the frozen foods work with the ice to help control the temperature in our cooler.
See also…