The holidays are over, along with most of my vacation hours, and it seems like it's going to be a long time until President's Day. These are some long monotonous weeks, where it seems like the only thing to do that is outdoor-related, is maintenance on the gear.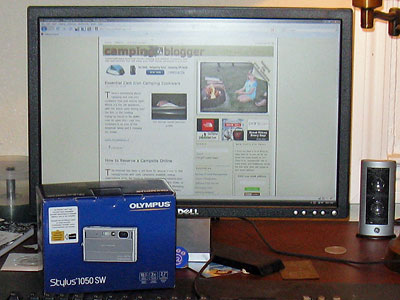 One thing that happened this week, though, was that I received the Olympus Stylus 1050 SW that I'm giving away next month. It kind of makes my own Cannon PowerShot A720IS look a bit dated! Anyway, I'm looking forward to rewarding the next lucky CampingBlogger fan in just five weeks, on February 27th. Our last winner, of the Garmin GPS, was a fellow blogger – Justin at Southern Hiker (no, there's no nepotism here – selection of the winner is at the complete mercy of www.random.org).
Back to camping – it is easy to slip into complacency in January, particularly for those who live in the colder climates across the country. I hadn't noticed this myself, until last week when I was putting one of the kids to bed and they asked me when we were going camping again. I guess It's good to have kids around to keep us focused on what's important!
Two years ago we had several weeks of sub-freezing weather, here in Northern California and we were camping in a trailer that we owned at the time. Now, RV camping in the winter is a pretty sweet deal, because the heater keeps the interior toasty-warm…unless you forget to fill the propane tanks. In true Murphy's Law fashion, our heater started blowing cold air at around 2:00 o'clock in the morning – not a good thing when you have three toddlers with you!
It's a lot easier remembering to be prepared when you are winter-camping in a tent, than it is if you are camping in the luxury of an RV. Part of the attraction of camping in the winter, though, is taking on Mother Nature and proving to yourself that you can deal with a little adversity. Sure, we may have camping stoves and the latest in cold weather clothing, but camping in the winter still connects us with our past, when it was just called "living."
See also…