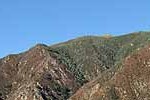 It is tough to beat the Central California Coast in the winter, and our Thanksgiving camping excursion into the wild Ventana Wilderness did not disappoint. We had solid days of rain on November 16th, the day before we left, and on Saturday the 27th, as we pulled back into our driveway, but for three glorious days it was pure sunshine with just enough evening chill to remind us that this was still winter camping.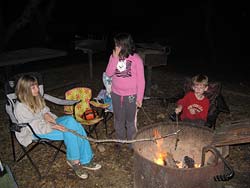 This trip would be a bit different than most, in that Lisa only had Thanksgiving day off from work, meaning I would have to get the gear and kids loaded-up, as well as setup the campsite. Fortunately, she only works about 30 minutes from the campground and could meet up with us in time for dinner.
That is assuming I could get the campsite setup and dinner started, while entertaining three kids! I got a campfire going, first, in order to keep the kids busy – and this proved to be a good strategy, as I could continue to get things setup, while keeping an eye on them. Normally, I like to get the kids involved as much as possible, but with the sun setting a scant 30-minutes after our arrival, I was seriously pressed for time.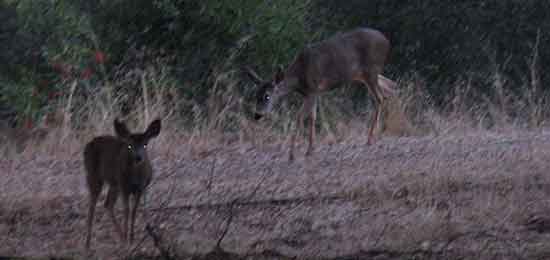 There was only one other group on the opposite side of the campground, so things were quiet enough that a pair of deer wandered through, just after sunset. This is one of the things I love about offseason camping – there are just so many more opportunities for viewing wildlife, that you don't always get when there are a lot of people, around.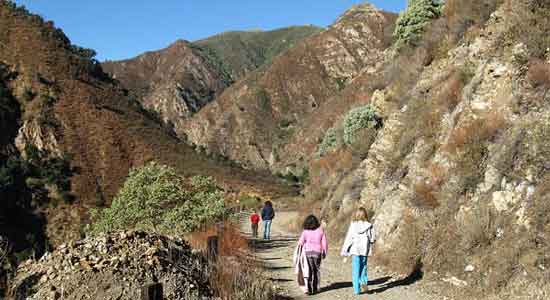 It was about 32-degrees on the morning of Thanksgiving, which proved to be the chilliest morning of our trip. That meant sunny, clear skies though, so we set off along the Santa Lucia Trail which runs some 15-miles through very rugged and gorgeous terrain. With kids in tow, we only put in a few miles, but they were a lot more amenable to hiking the trail than the last time we did it, which was a 95-degree degree day in May!
Back in the campsite, it was time for a little R & R and an impromptu game of football. We always pack a tub of balls, Frisbees® and a few games for down-times like these. This was particularly handy on Thanksgiving, since we were doing a lot more meal preparation than we normally do, on a camping trip.
Running around was also a great way to keep warm, as the daytime temperatures probably didn't get much higher than the mid-40's.
The big meal went off without a hitch, and everyone hit the sleeping bags that night with full tummies. Lisa had to work the next morning, on Friday, which meant that the kids and I would be on our own for the day. Fortunately, the area is basically the ultimate playground for kids (and adults) and I had a full afternoon of bouldering on the agenda.
The area around the Arroyo Seco campground, where we were camping, has all of the extremes. The Santa Lucia Trail runs out the south side of the campground, along a narrow gorge, some 1,000 feet above the Arroyo Seco River. Out the north side of the campground, though, is a forested trail that features a seemingly endless supply of immense granite rocks that are perfect for climbing.
I chose several small faces that were only about eight feet high, but were challenging enough that the kids had to think about contact and where their next hold was going to be. Honestly, I'm not sure how many hours we spent playing along this trail, but the kids had an absolute blast.
We are looking forward to several more camping trips, over the next few months. The beach is one of our favorite winter campouts and the kids are already talking about the snow in Yosemite. It is hard to believe that the year is almost over, but until spring arrives, there is still a lot of great winter camping to experience!
See also…