Let's face it, spending a weekend in the woods with no showers or heat or big comfy bed is not everybody's idea of a good time. Many parents today were not raised with a strong outdoor experience, themselves, which makes it difficult for them to appreciate the experience now. So what can you do if your spouse is not interested in camping?
Start with Cabins and Yurts
If you can't get your spouse excited about spending the night in a sleeping bag inside a tent, cabins and yurts are an excellent alternative. Cabins and yurts are available at many state parks and national forests across the country and are furnished with real beds, heat and sometimes a small kitchenette.
Start with Overnight Trips
In many instances, when someone is turned-off about the idea of camping in the backcountry it's due to a lack of experience and a fear that they won't like it. It's a valid concern and one that you can help alleviate by easing them into the camping experience with short overnight trips.  With experience comes confidence, and soon your spouse will be setting-up the tent like a pro.
Consider a pop-up tent trailer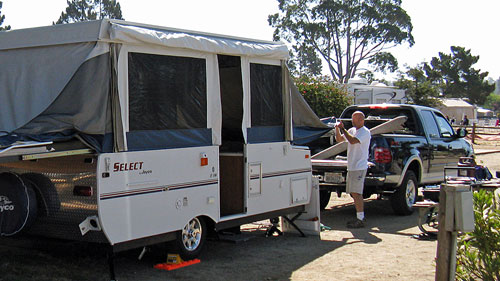 If tent camping is a bit too rustic for your spouse, a pop-up tent trailer is a great compromise that offers most of the comforts of RV camping, without giving up the total outdoor experience. There is a healthy secondary market in used pop-up tent trailers, which makes for a reasonable initial investment.
Invest in Quality Gear
If you are attempting to convince your spouse that camping is fun and can be comfortable, the last thing you want to do is to ruin the experience with cheap gear. It may sound counterintuitive to spend a lot of money on gear if you don't know how often you will get to camp, but you can always rent good gear from the reputable outdoor stores.
The biggest "gotchas" in camping gear are uncomfortable sleeping bags (so try before you buy!), air mattresses that go "pop" in the middle of the night, and tents that are cramped and flimsy. Buy or rent quality gear so that your spouse will have a great initial impression.
I know a lot of you have spouses who either did not camp, or still don't camp – so let's hear it: What are your tips and ideas for overcoming spousal camping anxiety?
See also…