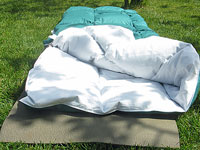 A few weeks ago I talked about the little Kotey bag that I carry in my daypack. On the opposite end of the scale is our big, puffy, rectangular Downlite™ sleeping bag. The Downlite is one of the most flexible pieces of gear that we own, because it zips completely open into a down comforter which is great around the campfire and even on our bed. What other piece of camping gear gets regular use in your home?
There is nothing high-tech about the Downlite bag, but maybe that's one reason it's so flexible and durable. The exterior is a heavy cotton twill material and the fill is 550 in3/oz. hypoallergenic down. The bag is machine washable, which is a real plus for getting the campfire smoke-smell out of the bag. The sticky marshmallow residue requires an extra bit of scrubbing, but that's no problem for the cotton twill exterior.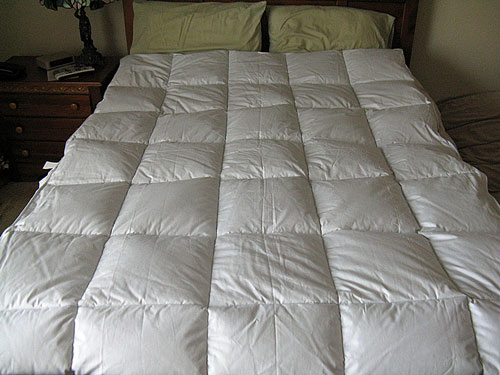 The disadvantages of a hybrid bag, like the Downlite, is that it doesn't have some of the pure sleeping bag features that would interfere with its use a comforter. There's no foot box, hood, or draft tube to insulate the zipper. To its credit, though, the Downlite is sized for a queen bed, so it's a full 86-inches long and unzips to a full 60-inches wide.
If you camp with someone who's not comfortable in a mummy bag, like I do, the Downlite is a great way to go. It currently sells for $70, which is very inexpensive for a down bag, and it serves several different purposes, which is always a plus. Just remember to wash the campfire smoke out of it before you use it on your bed!
See also…