Congratulations to Peter D. of Frederick, MD for winning the Olympus Stylus 1050 SW digital camera! I shipped Peter's new camera and he should be getting it on Friday. I selected the winner on Friday morning – in fact, I did it live online using Twitter. This is what the selection looked like, in real time…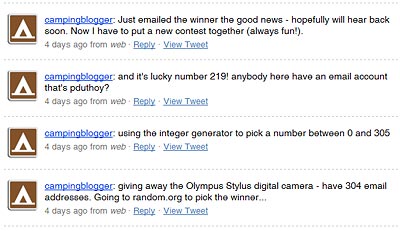 Here we are in March, already and I need to come up with another giveaway. Unlike the last two (a GPS receiver in December, and the Olympus Camera) where I knew exactly what I wanted to give away, this next one has me a bit stumped. Fear not, however, it will come to over the course of the next week or two.
Regardless of what I finally come up with for a prize, we'll run the next contest the same way. If you are already receiving new CampingBlogger posts in your email inbox, then you are already entered and there is nothing extra that you have to do.
Thanks to everyone who participated – these contests are a lot of fun and its a great way for me to reward some of the loyal CampingBlogger readers.