When it comes to pop-up tent trailers, Don Iannone wasn't satisfied with 10 MPG and fighting the Los Angeles traffic in a big SUV or pickup truck. He hits the 405 Freeway in style with his 2008 Smart® Car, towing a small pop-up tent trailer from Time Out Trailers, Inc™.  "I started camping as a Boy Scout, got into my 20s and got more interested in cars. Now I've sold the cars for more practical things and got back into camping about a year ago," said Don.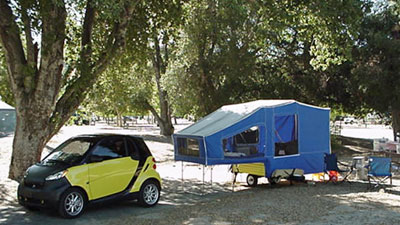 I don't know if this is the shape of things to come, but you sure can't fault Don for his ingenuity and resourcefulness.  The Smart Car is rated for 41 MPG on the highway and is classified as an Ultra-Low Emission Vehicle (ULEV). As you might expect, Smart doesn't publish a tow rating for the 1,808 lbs. vehicle. That's okay, though, because Time Out Trailers made a name for themselves in the motorcycle trailer market – that's trailers designed to tow behind motorcycles, not trailers for hauling motorcycles – so the pop-up tent trailer only weighs 345 lbs, with a miniscule tongue weight of just 20 lbs.  Don says, "we get up the hills okay, maybe get passed by a speeder, but we hold our own and even pass trucks."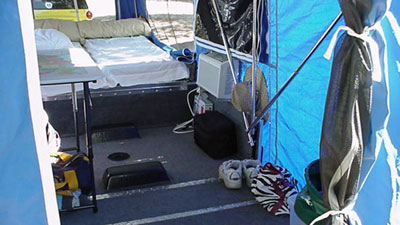 The Time Out Camper sets up quickly and provides a surprising amount of interior space, for such a small package. The bed includes an air mattress that is just slightly narrower than a full queen, at 54-inches, but it's a full 80-inches long (a must, for my 6' 3" frame). The center of the tent is also 80-inches tall, so there is plenty of room for standing, moving around and changing clothes. As you can see in the photo above, the tent also includes an air conditioning vent in the side, allowing you to add your own portable unit.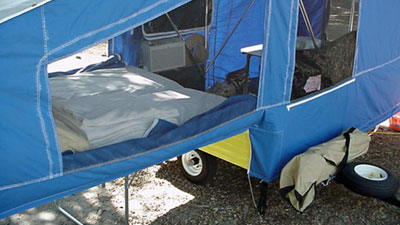 Since retiring this year, Don and his wife are "using the heck out of it and loving it," with southern California trips to Big Bear and Arrowhead Lake and northern California trips to Yosemite and the Sierra Mountains. If there was any question as to the towing ability of the Smart Car with the Time Out Camper, Don has certainly put those fears to rest!
See also…