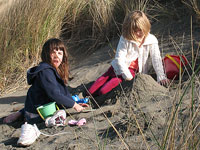 It happens to the best of us. Homework, sports and the weather – you probably didn't mean to give up on camping after Labor Day, but now it's the middle of October and you can't even remember where you stored the camp stove (but you're pretty sure you forgot to clean it, first!).   Luckily, there are a lot of other people who have given up on camping until next spring, which makes this a great time to visit some of those favorite sites that are always too crowded during the summer. For a bit of motivation, here is a list of the top fall excuses for not camping:
School sports
If you have children then you know that your weekend schedule is completely booked, from now until Christmas. This isn't something that we have to deal with yet, since our oldest is just in the fourth grade, but with three kids it is certainly something I'm concerned about in the future. I love school sports and I was a bit of a jock in high school, but I'm not sold on the idea of giving up every Saturday to them. Am I just getting old?
Weather
Let's face it, sunshine and 80 degrees sounds a lot more attractive than cold, damp and 50. Most people won't even consider heading into the backcountry if there's a hint of rain in the forecast, but maybe that's a good reason to give it a shot? You just might discover that it's not nearly as bad as you imagined and snuggling up to the campfire on a crisp evening is actually a lot of fun!
Homework
I don't know if it's just my selective memory, but I sure don't remember having a lot of homework, when I was in grade school. My kids, however, are bringing home at least an hour's worth every night and they regularly have some on Fridays, too.
Hunting season
I don't hunt anymore, but I grew up hunting so I know that when September rolls around, the rest of the world stops and hunting season begins. Now, maybe there are families out there who hunt together, but if your kids are young then that is probably not an option.
Campgrounds closed for season
Even here in California, some of the campgrounds in the Sierras start closing in late September. In many parts of the country, however, Labor Day is the grand finale and the last weekend that many campgrounds are open.
See also…