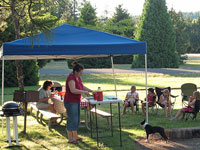 There are few things more traditional about camping than the camp kitchen. Whether you are baking beans over a campfire, grilling steaks, or cooking up a perfect Saturday morning breakfast in the backcountry, equipping yourself with the right camp cooking tools is an essential part of whole camping experience. These camp kitchen accessories will go a long way toward helping you ensure that your next camping menu is a success.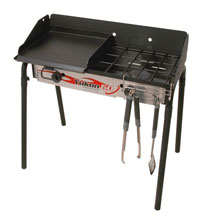 Camp Chef® Yukon Stove
The foundation of any good camp kitchen is the stove itself and nothing tops the venerable Camp Chef brand and their dual 30,000 BTU burner Yukon model. The Yukon measures a full 32 5/8 inches wide and the burners are spaced a generous 16-inches apart, which means it can easily accommodate a large frying pan without crowding the second burner. Sure, it's $170, but the Yukon model is so popular that you can find it at the big warehouse stores for a lot less.
Lodge® Cast Iron Cookware

If your camp stove is cranking out 30,000 BTUs of heat, you're tempting fate if you try to use flimsy pots and pans from your kitchen. Lodge cast iron cookware is the standard in heavy-duty outdoor cookware, because it's thick, durable and will stand up to the rigors of camping. A 7-quart dutch oven runs about $90 and a 15-inch skillet about $60 but, like the Yukon stove, these are popular items that can be found for a lot less. Best of all, they're virtually indestructible so you can hand them down to your children, someday.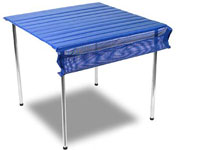 Camp Time® Roll-A-Table®
Sure, you're probably camping at a site with a large picnic table, but one of the first things you notice about camp cooking is a distinct lack of counter space and that's where the Roll-A-Table comes in. There are a lot of rollup camping tables on the market, but the Roll-A-Table is the best, by far. The table is 32-inches square and is very sturdy, with a vinyl-covered top that cleans up easily. If you are boondocking outside of an established campground and don't have a picnic table, you will appreciate the Roll-A-Table's lack of bracing between the legs, which provides a lot more space for chairs than other rollup tables.
See also…