One of the tools I use to help locate potential camping spots is a Road and Recreation Atlas, from Benchmark Maps™. These atlases provide a lot of useful information for the recreational enthusiast that you don't find on regular maps, like campgrounds, unimproved roads and trail heads. The company produces these atlases for eight western states and each state is broken down into various map scales, from 1:750,000 (1-inch equals about 12 miles on the map) to more-detailed 1:250,000 (1-inch equals 4 miles on the map) pages.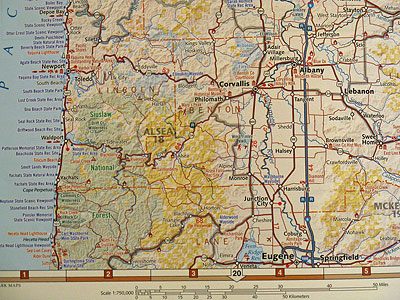 One of the features that I really like about these maps is how they use color shading to show who the managing authority of the land is. In the image above, the yellow-shaded areas are BLM land and the green-shaded area is Forest Service land. This is important to know if you are interested in dispersed camping, or camping outside of a designated campground (see Family Camping – Skip the Campground for more information.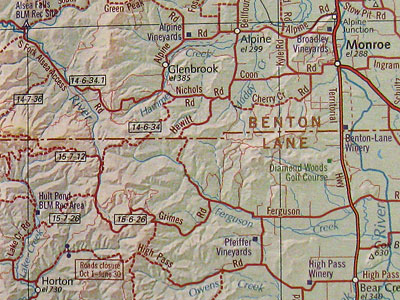 This image is a section of a 1:250,000 scale map that shows the kind of detail that you can expect from a Road and Recreation Atlas. For this particular trip, we were headed to the Alsea Falls BLM campground shown in the top-left corner. This small campground does not accept reservations, so you would not find it listed on the Reserve America or Reservation.gov sites, or even Google™ Maps. BLM roads are shown and labeled with their road numbers (Township, Range, and Section), making it easy to order a more detailed map of the area from the BLM, if required.
The maps do not have elevation contour lines, but the spot-elevations and the shading do depict a good representation of the relief. I think that Benchmark Maps was wise in choosing readability over possibly crowding the maps with contour lines. In all, I'm very happy with these atlases and, while they may not be essential for everyone, they are very useful for those of us who like to explore the backcountry.
See also…