The retro teardrop trailers have been all the rage, lately, but the Freelance, but True North Trailers, puts a new spin on the concept by focusing on interior room and cargo rack capability to haul all of your bicycles, or other toys. The Freelance is priced at $8,000 to $11,000, which is in line with many pop-up tent trailers.
Unlike a traditional pop-up tent trailer, however, the hard-sided Freelance lacks the two large beds, that make pop-ups so attractive for families. The Freelance has a single bed that is 77-inches long and 48-inches wide.  For reference, a standard queen mattress is 80-inches long and 60-inches wide. Still, there's plenty of room on the floor and, if you have teenagers, they're probably happier outside in a tent, anyway.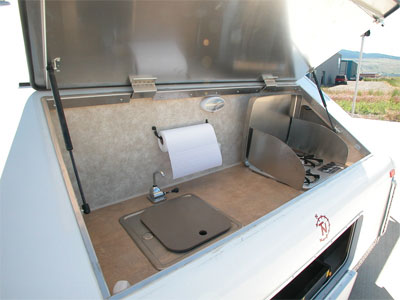 In the back of the Freelance is a small kitchen area, with a three-burner stove and a sink that is connected to a 10-gallon fresh water tank. The kitchen area being outside leaves more room for bikes and cargo inside. The Freelance has a large entrance/cargo door on each side to help with loading and unloading, and there are tie-down hooks in the floor.
The Freelance is definitely more of a toy hauler than a traditional camping trailer, though. There is no heater, hot water heater, or refrigerator. There is a lot of room for cargo, though, and that could be an attractive feature for a family into biking or paddling.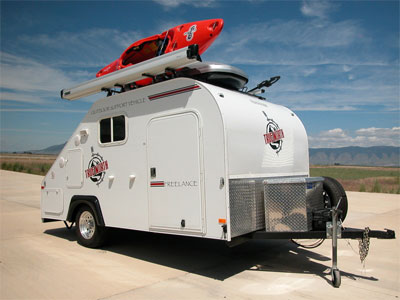 The Freelance also accepts a whole host of Thule® cargo carriers and racks, which really add to its cargo carrying capability. A completely loaded Freelance weighs just 2,475 pounds, so many cars, SUVs and minivans can tow it.
The Freelance is an interesting concept that, while certainly targeted at young singles and couples, could also serve the needs of active families on the go. It does not have all of the bells-and-whistles of a traditional camping trailer, but that simplicity is part of the attraction.
See also…