The ubiquitous bag chair is as much a part of camping as roasting marshmallows over a fire. These chairs are inexpensive and sufficiently durable to withstand a season, or two, of family camping. The two chairs pictured here represent the spectrum of bag chairs. On the left is the typical $8-$10 bag chair that you'll find in your favorite super store and, on the right, is a much higher-end $20 chair. So how do these chairs stack-up, after two years of constant use?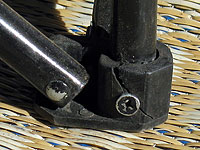 The nylon feet are the weakest link for all of these bag chairs, including our $20 high-end model that is already splitting across the mounting hole. The $8 chair uses a rivet to secure the foot to the leg, instead of a screw. I can only surmise that the foot on the $8 chair is molded with a hole for the rivet, while the foot on the high-end chair is drilled – and drilling a plastic part does create a weak spot.
Both chairs use a similar polyester material, although the high-end chair is double-ply with padding in between the layers and is noticably thicker and plusher than the $8 chair. It's proven a little too  plush for this seem on the arm, however, which is splitting where the two halves join.
Here's a hole from a burning campfire ember on the $8 chair. Bag chairs used to be made out of canvas and, while canvas can stop a burning ember, they didn't hold their color well and faded quickly in the sun.
As these two chairs enter their third season of camping, it's pretty obvious that there is little reason to go out and spend extra money on a higher-end bag chair. Many of these chairs come from the Northpole® company in China (as do most tents) and this company has the process dialed-in, from the proper thread to keep the seams from splitting, to the extra gusseting in high-wear areas. We tend to not equate Chinese products with quality, but I would have no problem recommending a Northpole chair (look on the country of origin label) for its durability and its economical price.
See also…