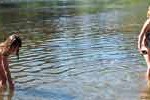 This is a guest post from Licia at The Happy Campers, a Tumblr blog about family camping. See my information page if you are interested in guest-posting, here on CampingBlogger.
Let's face it- there is nothing more daunting than going camping with children under the age of five. On first blush you might think: "Total chaos!" However, if you plan your day accordingly and have brainstormed enough activities, a successful outing will ensue. Camping with children under the age of five is different than camping with the six year old plus category.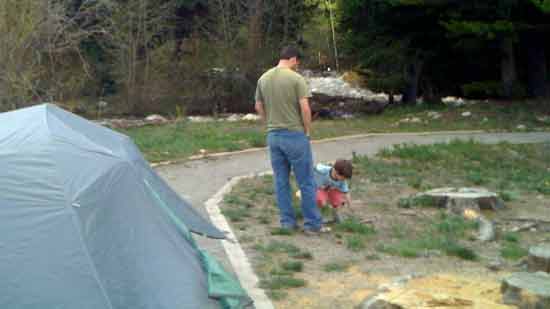 The under five kids still need the adult population to be the entertainment committee. Make no mistake, there will be some down time, but the majority of your day will be taken up with the best parts of being outside: hiking, exploring and, most importantly, introducing the little ones to the beauty of the great outdoors.
To help organize the general bedlam that can occur when camping with children here is a general timeline that we follow:
6 am: Wake-up: First light is the alarm that has no snooze button.
6:30am Emerge from the tent and begin setting up breakfast: Get the kids involved, even if it means the little ones are in a child carrier as you cook. This will help you keep an eye on them and they will feel included in the process.
7:30am Eat Breakfast and Clean Up: Clean up can be a lengthy process, washing, drying and putting the dishes away is always more fun as a group effort.
8am Wash up for the day and apply sunscreen and bug repellant: Sunscreen and bug repellant application will ensure that the campers remain happy!
8:30am Choose and begin a morning activity: Whether it is hiking, fishing, animal watching or discovering the local flora and fauna this will engage everyone and is a great learning experience for both children and adults alike.
11am Head back to camp and begin setting up lunch: Again, food prep takes time and is one of the best parts of camping, having everyone participate in the food prep process makes for a smoother meal time experience.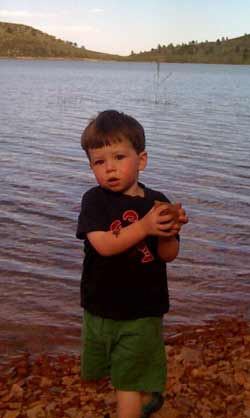 12pm Eat lunch.
12:30pm Clean up lunch and take a break: This is a good time for napping or getting the kids to play under the shade or in a tent. Have the kids relax. Remember they have been up since dawn so they will be exhausted. Even if they don't nap it is a good idea to have some down time as to avoid meltdowns in the late afternoon.
2:00pm Snack and afternoon activity: This activity may need to be a bit more low key than the morning outing due to energy levels and weather. Having a few options thought out ahead of time will get you over the "hump" of the afternoon.
4:00pm Head back to camp and start preparing dinner.
5:00pm Dinner.
5:30pm Clean up dinner and start campfire: This is a great time to talk about fire safety. Even the smallest kids will understand the basics of "Hot" and "Careful".
6:30pm Campfire activities: Time to get out the s'mores ingredients and cook up some marshmallows! Also, this is a great time to get the kids on your lap and talk about the day's activities and what they liked best about their adventures.
9:30pm Bed: Trust me when I say: you will be exhausted.
In my experience, the more you can get the kids moving the better. During the activity hours I highly recommend going on hikes or walking around and exploring the campground. Sometimes that takes a bit of motivation but once they get out they are always happy to keep going. I am always amazed at the ideas my three year old comes up with when we are out and about in the wilderness. Everything is exciting and new to him and often times we take the same hike over and over so that he can re-discover the items we found the day before.
In the end, camping with children is always a good time (even with a mishap here and there). Just remember: the more organized you can make your day the better it will go and the happier both the kids and adults will be!
See also…