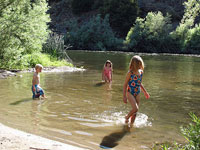 If you are planning a family camping trip this summer, you are probably wondering how to keep the kids entertained. The kids are going to have a great time, particularly if camping is a new experience for them. They're going to have a great time helping you setup the tent, gather firewood, cook meals – all the normal camping "stuff" that parents take for granted. It's a good idea to plan some activities and pack some games, for those times when you are relaxing at your camping spot. Here are ten ideas that you can use, as you plan your family camping adventure.
Junior Ranger Programs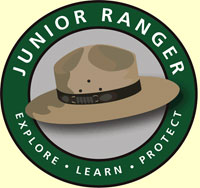 Many federal and state parks offer Junior Ranger programs throughout the summer camping season. The activities vary, from park to park, but they are always geared towards the kids and they always encourage parental involvement.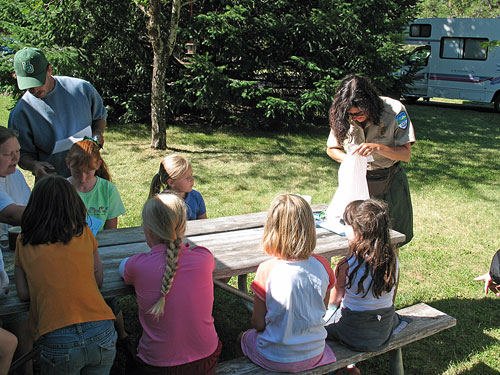 Interspersed amongst the fun, the Junior Ranger program teaches about geology, ecology, history, safety, plants and wildlife, among other outdoor subjects. The programs focus on a different subject each day and they are usually an hour long.
Some parks offer Junior Ranger programs specifically for tweens and teens, with longer hikes that explore some of the interesting natural features or history of the area. You can find out more about the Junior Ranger program from the National Park Foundation, or Google™ your state's name and include the term Junior Ranger.
Water Activities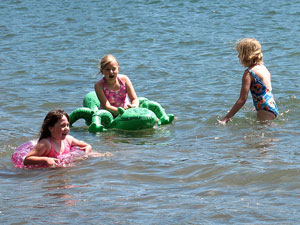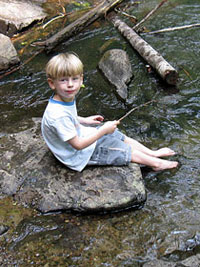 There's one sure-cure to boredom and grouchy camping kids and that's to camp near a lake, river or ocean. Kids love to play in the water and it's pretty fun for the parents, too – especially on those hot summer afternoons.
Young kids might lose interest in a long hike, but if the destination is a mountain stream that they get to play in for a few hours, even if it's just skipping rocks or cooling off their feet, they will be thrilled. It is much easier to maintain their enthusiasm about hiking, with some kind of reward to look forward to at the destination.
Scavenger Hunts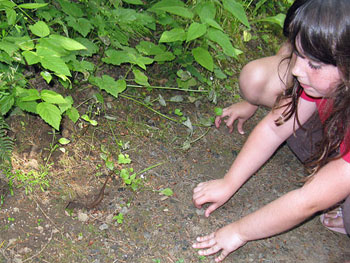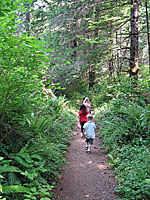 Another way to make a hike interesting for kids is to turn it into a scavenger hunt. Start with the letter "A" and work your way through the alphabet, searching for things along the way that start with the current letter. There's no need to take anything back to the campsite, just move on to the next letter or maybe snap a picture or two.
This is not only a great way to keep kids interested in hiking, it also encourages them to look around and experience more of their surroundings. I've grown so accustomed to doing this with the kids that I find myself going through the alphabet on my own hikes. Of course, maybe I'm still just a kid, at heart!
Sand Toys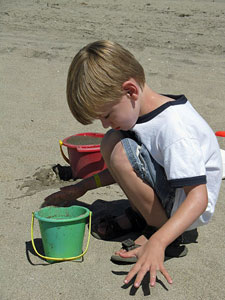 If your family camping adventure includes a sandy beach, there's no substitute for buckets, scoops and other plastic implements of sandy delight. The buckets are also handy for collecting sea shells and rocks, which is another beachy activity that kids love.
Bubbles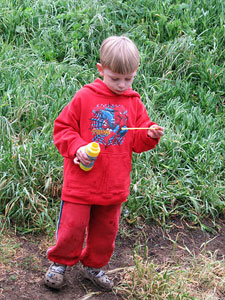 Whatever your family camping plans may be, there are going to be times spent at the campsite and you will want to plan for some kid-friendly activities that can be done in a small area. One great activity that kids love is blowing bubbles and a bottle of bubbles will definitely keep the little ones entertained. Who can blow the biggest bubbles? Who can pop the most bubbles? It might not even take much coaxing to get your older ones to join in on the fun.
Toss Games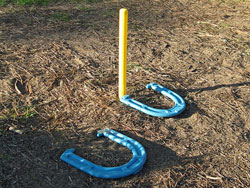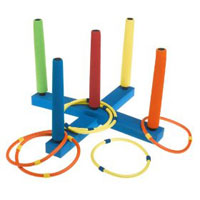 We all know about horseshoes and, in fact, some campgrounds even have horseshoe pits. There are also ring toss and washer toss games that are very easy to setup around the campsite. These are fun for the kids and a lot easier to contain within the camping spot, than throwing balls around.
The best part about games like this is that everyone can participate and yet they're simple enough that the kids can play on their own if you are preparing meals or packing-up gear for the night.
Memory Games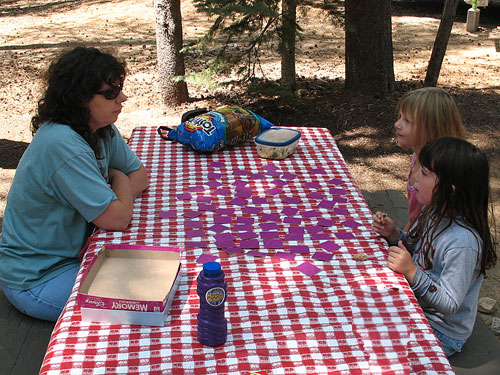 Memory games, where you mix-up a set of tiles or cards and then take turn turning over two tiles to try and find a match, are fun picnic table activities for young and old, alike. You don't need a set number of players, in order to play a memory game. This is a real plus, if your kids are camping with a friend, or two.
Ice Cream Party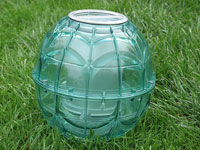 It's difficult to bring ice cream on a family camping trip, but products like the Play & Freeze™ ice cream maker let you make your own, right at your campsite. Keeping ice frozen can be a challenge, of course, but you can bring block ice (which melts much slower) and then crush it with a hammer.  If you want to find out more about the Play & Freeze, see my review.
Popcorn and a Movie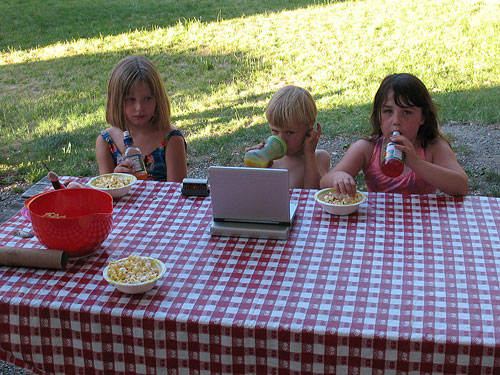 Portable DVD players make it easy to have your very own campsite "movie night", complete with campfire popcorn. This is a great alternative to s'mores, when you don't want to get the kids pumped-up on sugar, right before bedtime. For more information on popping corn in the backcountry, see Campfire Popcorn.
Most portable DVD players have a 12-Volt charging port, which allows them to be recharged from your car. If your DVD player did not come with a vehicle charging cable, you can get one at any home electronics store.
Ghost Stories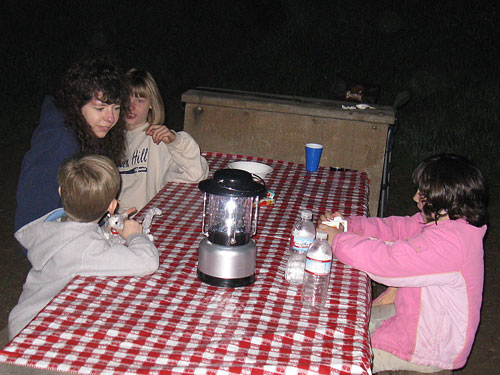 There's nothing wrong with a little ghost story, right? I'll let you decide whether scaring your kids with ghost tales, right before zipping them into their sleeping bags, is a good idea or not. The nighttime campsite is the perfect setting, though, with the crackling embers of a dying campfire and the evening sounds of the forest and its creatures. Hey, I'm starting to scare myself!
See also…