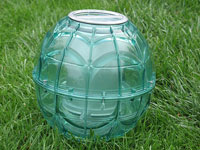 The Play & Freeze™ ice cream maker, from Industrial Revolution in Redmond, Washington just might be the greatest camping gadget ever invented – at least if you frequently camp with kids. You might have seen these before and wondered if they were just some cheap gimmick, or if they actually make good ice cream. Let me assure you, there is no difference between the ice cream that comes out of the Play & Freeze and the ice cream that comes out of any regular ice cream maker.
The Play & Freeze does not require any electricity, although it sure helps to have enough kids around to keep the thing moving for 30 minutes. Ice cream can be a powerful motivator, though!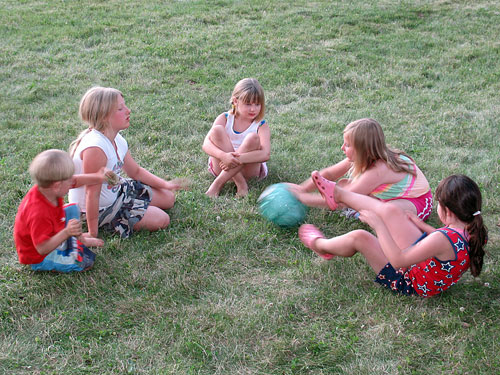 The Play & Freeze comes in two sizes; the "Original" size makes one pint of ice cream, while the "MEGA" Play & Freeze (shown here) makes a whole quart of your favorite summer snack.
The concept is similar to most other ice cream makers; pack ice and rock salt around a metal cylinder filled with the ice cream ingredients (cream, sugar and flavoring), then agitate the mixture until it freezes solid.
It is the agitating part where the Play & Freeze makes a significant departure from traditional ice cream makers. What used to be mom and dad's job, tirelessly turning a crank to spin the cylinder, is now a fun game of rolling the "ice cream ball" to each other!
A quart of ice cream takes about 30-minutes, with a short break in the middle to add more salt and ice (1 bag of ice and 1 cup of rock salt is enough for the entire batch), and scrape the already freezing ice cream from the sides of the cylinder, so that the entire quart freezes evenly. It is nearly impossible to mess this up, provided you start with whole cream and use enough sugar (just shy of a full cup, for 1 quart of cream).
The Play & Freeze is easy to transport, and seems rugged enough to last a lifetime. We broke ours in during last summer's triple-digit heat wave here on the west coast, and it not only kept the kids busy for part of the afternoon – it also tasted darn good (thanks kids!).
See also…