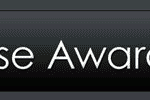 I am honored to learn that CampingBlogger has been recognized as one of ten blogs in the "Camping" category for a Tripbase award, this year. CampingBlogger will be three years old this year, and it has certainly been quite a ride!
I can remember the first time a hundred people visited CampingBlogger in a single month – today, that number is over seventeen thousand and I am hoping to hit thirty thousand in a single month, this summer.
Running a blog also costs money – there is website hosting, domain name subscriptions and a bunch of supporting technology expenses such as the mobile interface I added, this year. This wouldn't be possible without the support of my sponsors, who are really responsible for making this all possible. I would particularly like to recognize The Camping Equipment Company, who has been with me all year – so please let them know that you saw them on CampingBlogger, if you get a chance!
So what is in store for CampingBlogger, for the rest of this year? More of what we do best – encouraging parents to get outdoors with the kids! I will highlight another one of the national parks this summer – hopefully Yellowstone, along with beach camping, easy outdoor cooking and a smattering of new gear reviews.
Thanks again to Tripbase for the award and a special note of thanks to each and every one of you, who keep me motivated to make CampingBlogger better. Happy camping!