It doesn't matter if you're camping in the dead of winter or the middle of summer, there's no better motivation for crawling out of the tent in the morning than a fresh pot of coffee. Fortunately, there are as many ways to brew a decent pot (or cup) of coffee in the backcountry as there are stars in the sky.
Purists might still boil water in a standard pot, stir in some grounds and call it good. Others may want to invest in the latest high-tech, standalone, drip coffee makers that free you from waiting on the campfire. Whichever way your predilection for coffee goes, here are ten types of backcountry coffee makers that will get you going in the morning.
Flip-N-Drip
The Flip-N-Drip™ from Brunton® is a self contained coffee maker that works well with small backpacking stoves. It works by first heating the water using the base section of the Flip-N-Drip, then attaching the middle brewing chamber section, which contains a coffee filter and your coffee grounds. To brew, attach the coffee mug to the top of the assembly and flip it over so that the hot water flows through the coffee filter and into the mug.
Folding Coffee Drip
Stepping up a bit in both cost and complexity (although not much) is the folding coffee drip, from Snow Peak. It folds flat for easy transport, but it unfolds to hold a standard drip coffee filter and has legs that allow it to sit on top of a coffee mug.
MugMate™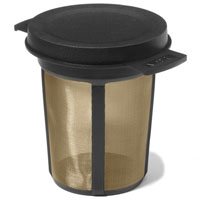 Mountain Safety Research makes the MugMate, which is another simple solution for brewing a single cup of joe. The smart twist that MSR puts on the MugMate is the lid, which helps keep the water hot while the coffee or tea is steeping.
Coffee Boiler
No, it's not a percolator. Coffee boilers are about as traditional as you can get without resorting to using a standard pan. The enameled steel pots from GSI Outdoors are rugged and durable.
REI Campware Percolator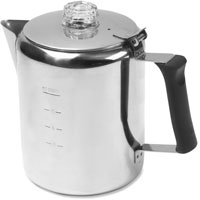 REI has a nice 12-cup percolator in their Campware line. Since it's stainless steel, it is easy to clean the campfire soot off of it, but it's really made more for camp stoves, due to the plastic insulation on handle.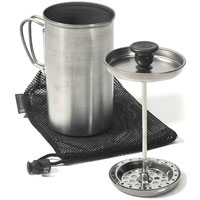 Snow Peak Titanium French Press
The Titanium French Press is lightweight (6.3oz) and super durable. Pop the filter assembly out and you've got yourself a great, 3-cup mug.
Mountain Gear Coffee Press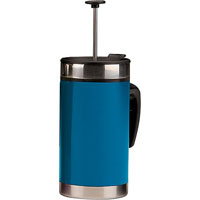 Another take on the backcountry french press theme. This one is from Mountain Gear and it is a stainless steel coffee mug that doubles as a french press. The difference between titanium and steel? The Mountain Gear Coffee Press weighs almost 1lb, empty.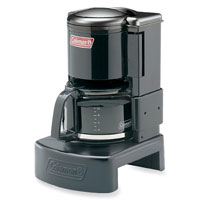 Coleman® Camping Coffeemaker
Works just like your drip coffeemaker at home, but the Camping Coffeemaker uses your gas grill for heat, instead of an electrical cord.
Brunton® Brewfire Coffee Maker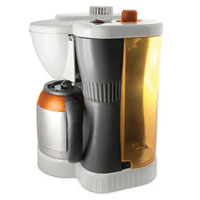 The new Brewfire is the first self-contained drip coffee maker that does not require an external heat source to brew coffee.  It operates on butane or propane canisters.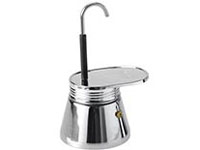 GSI Outdoors 1 Cup Stainless Expresso
That's right, just because you're in the backcountry doesn't mean you can't have that perfect morning espresso. The little Expresso makes one double shot of espresso in about 1 1/2 minutes, according to GSI Outdoors.
See also…