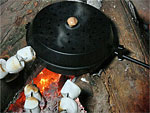 There is no better way to top off an evening of s'mores around the campfire than with a big batch of buttery, salty, popcorn. It's hard to beat a bowl of warm popcorn after the sun goes down and, let's face it, popcorn is usually a better bedtime snack for the little ones than marshmallows and chocolate!
People have been popping corn for thousands to years and it's an easy camping snack to make. Even if you're boondocking (camping outside of an established campground) without a campfire, you can still pop corn on your camp stove. All you need is a little oil and something to contain the popping corn kernels. Any pot with a handle and a lid will do.
If you are popping corn over a campfire, then you probably want something with a longer handle than a regular pot. Dedicated "open flame" popcorn poppers, such as those from Rome Industries in Peoria, Illinois and Wabash Valley Farms in Monon, Indiana feature two-foot-long handles to keep your hands safely away from the licking flames of the fire.

If a dedicated popcorn popper, like Rome's or Wabash's, isn't your style there is another way to get your popcorn on that is straight out of the 1960's: Jiffy Pop! Yes, Jiffy Pop™ is still around, though thanks to the onslaught of the microwave, it's much harder to find. And when you do find it, you really need to be careful not to get ripped-off. Jiffy Pop should cost about $1 per package, but many online sources sell it for twice that. Check the ConAgra Foods® store locator for availability in your area.
Note that Jiffy Pop is supposed to be used for popping corn on a stove, not a campfire. If your campfire ring includes a grill, though, just place a griddle (you do have a cast iron griddle, don't you?) on the grill and it will pop just fine. We have even used Jiffy Pop directly on the grill with decent results as long as the flames of the fire weren't too close, which tends to burn the kernels in the thin Jiffy Pop container.
Camping is all about making memories and what's more memorable than munching on warm popcorn under the stars?
See also…