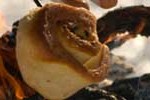 This is a guest post by Tara Alley, a freelance writer from Montana. If you would like to guest post on CampingBlogger, please see the guest posting page for more information.
As a Montana girl who fell in love with the outdoors at a very young age, I've been on my share of camping trips. And let's face it: while I love hiking, fishing, and playing cards in the sunshine, you name it, my favorite part of camping is, by far: the food. Camping gives you an excuse to eat and make delicious, semi-out of the ordinary foods in often "unique" ways that you don't normally get to experience. Cinnamon rolls and an open fire? Yes please!
And, while my tastes and preferences may have changed slightly over the years, there are some meals & treats that we happened to discover that will stay a part of my repertoire for years and years to come.
Camping Breakfast
Nothing beats breakfast when you're camping, it can even make crawling out of sleeping bags into the chilly morning air completely worth it. (This does not apply, however, if breakfast equals a bowl of instant oatmeal) Our basic breakfast is pretty standard: eggs, pancakes, bacon/sausage, etc. But, it's my mom's special touches that add the difference: her potatoes and her homemade caramel rolls. These take a tiny bit of prep work, so stick with me!
The secret to the potatoes is boiling. Buy baby reds and boil them completely beforehand. Peel and then dice into small cubes. You can freeze them or refrigerate them, depending on what your particular cooling needs are for camping. Fry with a touch of butter and salt and pepper. They are divine. You might opt to skip everything else and just eat a bowl of potatoes. Just maybe. Probably depends if you have homemade caramel rolls.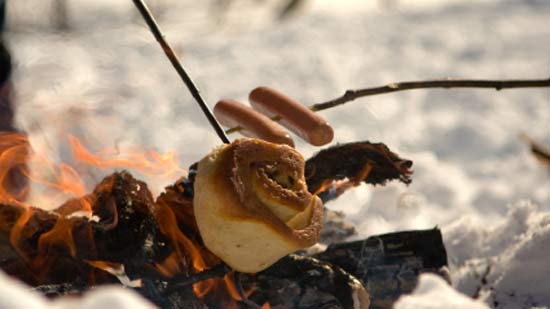 As for caramel rolls on a camping trip, well, those are rather indescribable. If you're up for it, you can try whipping up your very own beforehand, just remember: you can never have enough butter nor enough brown sugar. This means extra caramel. And, you're camping! It's the one time when you can eat lots of caramel! You'll burn it off on a hike, no problem. My mom also likes to add walnuts into the caramel, which is like little bit of heaven in your mouth. If you're not quite game for baking them on your own (they are work, I cannot lie) then you could easily grab some Cinnabon or Pillsbury from the store. Just make ahead of time, and warm to a "dripping-caramel-stage" over your fire.
Tinfoil Dinner
This is so good it's tough to leave it alone as just a "camping-food." And it's oh-so-simple too! All you need:
Veggies (Our favorite combo: red and green peppers, mushrooms, onions)
Potatoes (Baby reds!)
Kielbasa sausage
Italian dressing
Butter (If you wanna make it really good)
Slice up everything, layer on a sheet of tinfoil. Pour Italian dressing over, add a dash of salt and pepper and a touch of butter (optional). Pull sides of tinfoil together and roll together on each side, forming a packet. Place over fire and cook. So simple and so good!
BBQ – Uptown Dining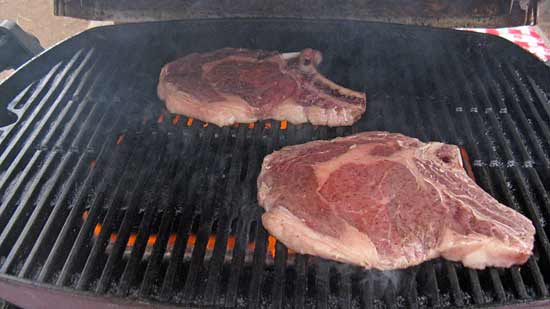 Our family finally started taking along a small portable barbecue about a year ago, and it revolutionized our meals! This is especially useful for places like Montana, where it's overly dry much of the year and fires are banned, making grilled hamburgers and hotdogs a no-go.
You can really step up your camp cooking a notch with offerings char-broiled steaks and marinated grilled chicken breasts. You can also microwave/bake potatoes partially before you go and then toss onto the barbecue with your meat or wrap. Corn on the cob is another great BBQ addition. This is what we like to call high-class camping. (Throw on hotdogs and hamburgers for the kids, perhaps?).
Treats
Finally, when it comes to camping, the treats are a must. For a big, welcome-back from a day scouting the great outdoors, you should always come home to:
*Monster Cookies (Only the best camping cookies ever!)
Ingredients:
1 cup peanut butter
1/2 cup butter, softened
1-1/4 cups packed brown sugar
1 cup sugar
3 eggs
2 teaspoons baking soda
1 teaspoon vanilla extract
4 cups quick-cooking oats
3 cup M&M's (or more!)
2 cups all-purpose flour
In a large bowl, cream peanut butter, butter and sugars. Add eggs, one at a time, beating well after each addition. Add baking soda and vanilla. Add oats and M&M's; let stand for 10 minutes. Stir in flour.
Shape into medium sized balls. Place on greased baking sheets. Gently flatten cookies. Bake at 325° for 15-18 minutes. *Adapted from Taste of Home.
For kicks, you should also pack along bags of pre-popped popcorn, a variety of trail mixes, and things like Twizzlers and gummy bears. Just for fun.
See also…