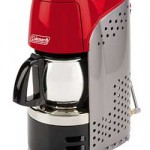 I remember when Brunton® introduced the BrewFire™ back in 2008 and thought it was a great concept, at the time. No fire to start, no jockeying for room on the camp stove – just light the internal burner and let it do it's thing. Now Coleman® has launched their own self-contained coffee maker and it is a lot cheaper than Brunton's (now Primus™).
The Coleman looks like an effective unit, with a nice wrap-around windscreen in the back, and a stainless steel carafe. My current Coleman stop-top coffee maker has a glass carafe, that I have somehow not broken in three or four years, but a metal carafe makes a lot of sense. Coleman also offers a model with a glass carafe for $10 less.
As much as I am attracted to this self-contained concept, I am not sure I am willing to part with $80 or $90 just for that convenience. I have gotten a lot of use out of my $40 Coleman (I see they are now $50) and other than the glass carafe, there is really nothing on it that can wear-out or break.
It would be nice to free-up some space on the stove, but I am getting by with getting up a little earlier than everyone else (easy to do with my family 🙂 ), brewing my coffee and pouring a few extra cups into a Thermos® to keep it hot.
What are you currently using for brewing coffee at the campsite? Does a self-contained unit interest you?