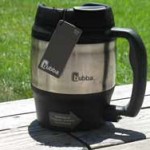 The ginormous bubba® 52-ounce insulated mug was a Father's Day gag-gift from the family, but with our Independence Day weekend temperatures well into the triple-digits, I decided to breakout the "bubba" and see what this thing could do. Surprisingly, pretty darn good!
I wasn't kidding about the temps, here, in south San Jose. Our sensor is on the south side of the house but, still, 107-degrees is hot! Normally, we would be up in the mountains on this holiday weekend. This year, however, Mrs. CampingBlogger's work schedule is keeping us close to home – making this a great opportunity to put the "bubba" to the test.
The bubba is a hefty line of insulated beverage containers that come in various sizes. My 52oz. model sits squarely in the middle of a line that ranges from 18oz. travel mugs to 5-gallon beverage coolers.
The bubba works with hot or cold beverages, although I am not sure what I would do with 52oz. of coffee. There is a bottle opener integrated into the bottom of the handle, which is pretty slick. Unfortunately, the bubba is not dishwasher safe – but I guess that's not a big deal for camping.
I filled the bubba with 48oz. of my least-favorite beer (I wouldn't want to waste good beer, if this thing doesn't work!) and took a temperature reading, before letting it soak in the 107-degree sun for one hour.
And the results? The bubba worked surprisingly well! The beer was a bit flat, after sitting in the sun for an hour, but the temperature barely budged and it was still deliciously cold. There is no way my Igloo® MaxCold could have pulled that off, without a considerable amount of ice.
Does the bubba have any real camping utility? Probably not for me. I prefer my beer one bottle-at-a-time, not in 52oz. mini-kegs. The bubba worked so well, though, that I am now intrigued by there larger 3 and 5 gallon beverage coolers. Those could prove to be great solutions for cold water and juice, at the campsite.