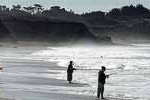 This is a guest post by Karen Ho Fatt, who publishes an outdoor fire pit review site. If you would like to guest post on CampingBlogger, please see the guest posting page for more information.
Most of us are planning to head out to the National Parks this spring season. You will probably be making the most of your trip there; hunting, cooking and fishing are probably on the trailblazing menu. But most of us usually incorporate some kind of photography to document their trips into the great outdoors. But how do you create a more meaningful representation of these spectacular creations of nature?
For those who don't want to just settle for the run of the mill "snapshots" here are some tips to improving your skills while on holiday.
Capture the Big Scene. This is the trophy photo is what we all try to achieve as photographers, the one that makes a statement; the majestic mountains rising above the clouds with the river running through below. A wide angle lens from 15mmm to 24mm is best to help you achieve that panoramic view.
Get in Closer. Photograph scenes within scenes. Focus on smaller details such as animals in the landscape with the trees as a backdrop.
Carry multiple lenses. Use a 24- 70mm lens for more standard scenes (as it looks to the eye) and a zoom lens in the 70-200mm range will help you get those far away details closer to you. A macro lens will give you a 1:1 view of your subject and will capture intimate details such as bugs on a budding leaf.
Capture the Mood of the place. Getting to your location at sunrise and sunset when the light is golden will impart a different mood to your subject. A side lit mountain is a sight to behold: you will see it alternately glowing in shades of pink, orange or yellow. These magic moments are fleeting so you will have to be quick with the shutter and set up early before the sun rises (before 10 am) or before it sets (after 3pm).
Storms, Rain, Mist and Fog are not your enemies but your friend. These elements are great mood creators and incorporating them will elevate the image to a different level. They will turn the mundane into the extraordinary. And remember to dress in layers for these extreme weather changes you may encounter in the wilderness that you will want to capture.
Use a Monopod or Tripod. Nature's fickle weather and the magic moments of sunrise and sunset are often bathed in low light so you will need these tools if you want your pictures looking their best. Otherwise steady yourself against a tree and don't breathe if you don't have any one on hand! In addition to the latter you will probably need to use very high ISO in these low light situations and alter these more grainy images with noise software later. The monopod's added benefit is that it also can double as a walking stick!
Get a GPS. Sure handy if you get lost but you may want to come back to the same location at a different time of day to capture a different mood and look.
Last but not least, know your camera and its limitations. Read your manual and learn what all those buttons were meant to do. As stale and boring as it may be, you don't want to be fumbling around and not capture that fleeting moment!
These basic principles apply if you have a DSLR camera with interchangeable lenses or a more simple point and shoot camera. Taking photos is a combination of both serendipity and some careful planning. But take note as you will see miles of improvement in your travels into the great outdoors!
See also…