Our current family camping tent is entering its third season of service, so this seemed like a great time to give the rain fly a fresh coat of waterproofing to handle those impromptu spring showers. To that end, Kiwi® was kind enough to send me a can of their Camp Dry® heavy duty water repellent and, since our tent could easily double as a small house, I picked-up another can myself, just to make sure I had enough to cover the entire rain fly. Camp Dry is a silicon based water repellent that is designed for outdoor gear like boots, patio furniture and the polyester taffeta rain fly on our tent.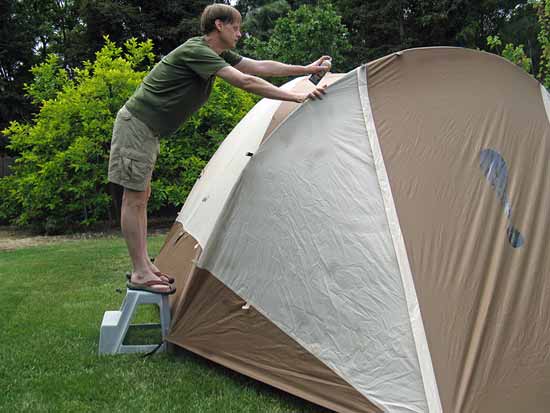 The best way to apply a fresh coat of waterproofing is to simply setup the tent and spray it right onto the rain fly. With a big tent like ours, it would be easier to stretch the rain fly out on the ground, but then it is nearly impossible to get all of the wrinkles out of the material. It is much better to apply the waterproofing to the material when it is stretched tightly over the tent's frame, in order to get complete and even coverage.
Waterproofing also takes a long time to dry. Kiwi recommends 24 to 48 hours, but I let it cure for about 10 hours as I did not want to leave the tent exposed to moisture and dew, overnight. Still, waterproofing a tent is a task that is best started early in the morning, as soon as the grass is dry. I also chose a day that was supposed to be fairly mild, since UV rays are not good for the tent material and I did not want to expose it to too much heat.
I spent a good, solid hour spraying the rain fly and went through one entire can of Camp Dry and about half of a second can. I used some of the leftover Camp Dry to give my Black Diamond® Octane pack some extra protection from the elements.
Hopefully the new waterproofing will not be tested, this spring, but if we do get caught in a shower or two, I am confident that the rain fly will protect the tent walls themselves, and will keep us comfortable and dry.
See also…