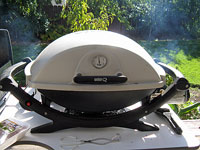 A camping grill, in addition to a camping stove, can be a real benefit if you like to cook more complex camping meals for your family. A separate grill frees-up burner space on the camping stove for side dishes, like baked beans, corn or potatoes. The Weber® Q® 220 is a portable gas grill that meets our family cooking needs nicely, without taking up too much room in the car. It's not a lightweight piece – the Q-220 tips the scales at 45 lbs. and measures nearly three feet long.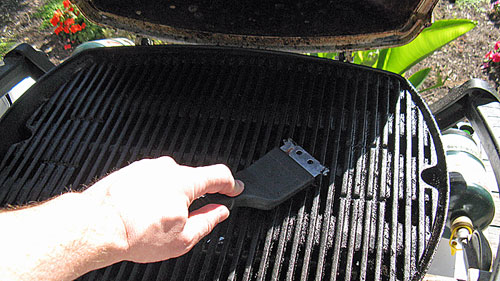 The best feature of the Q-220 is the cooking surface, which measures about (the sides are curved) 22-inches long by 15-inches wide. That cast iron grate has held up well to four years of non-stop use – the Q-220 is so handy that I use it at home, too.
The bottom of the Q-220 slopes into a central opening with a large drip try underneath the grill, which makes cleanup a relatively simple affair. Weber sells disposable foil pans to line the drip try, but I use aluminum foil with no problems.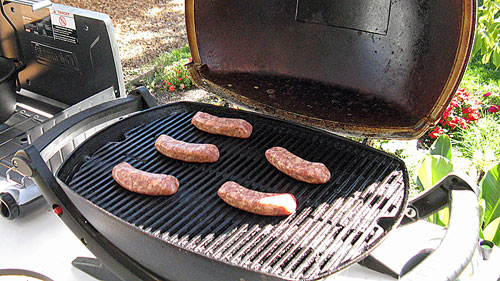 The Q-220 is great for cooking burgers, sausage and medium cuts of meat. Like most gas grills, it is difficult to keep the Q-220 under 300-degrees, for ribs or thick cuts of meat. The thermometer, which is integrated into the Q-220 lid, greatly aids in temperature control – you just have to keep an eye on it and then vent-off excess heat by opening the lid, when necessary. I have the best success with ribs using a rib rack, which keeps then up and off the surface of the grill.
When it's heat that you want, though, the Q-220 delivers. It reaches 400-degrees in about 15 minutes and tops-out at about 450-degrees. The solid cast-aluminum construction works great at holding in the heat, making the Q-220 a miser when it comes to propane. All that thermal mass makes for great cooking, which is one of the reason I also use this grill at home – it cooks amazingly well.
See also…