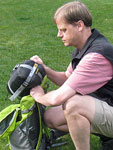 It's always been my contention that when it comes to camping gear, you have to pay a premium for the lightweight backpacking variety. That logic got stood on its head when Eureka!® sent me one of their Kotey 35-degree bags, which weighs just a shade over two pounds and retails for less than $100.
The Kotey comes in a 14-inch by 7-inch stuff sack, with integral compression straps that really help turn it into a small package. I had no problems fitting the Kotey into the bottom of my daypack, which is a huge advantage over strapping a bag to the outside of the pack.
I have always liked the idea of a synthetic bag, from a durability standpoint, but they have never really hit the size and weight requirements to fit my needs. The Kotey is not only a few ounces heavier than my down bag, but it's less than half the price.
The Kotey is 82-inches long, which was just right for my 6' 3" frame. The shell is a soft polyester material that was comfortable and quiet. The zipper has an effective draft tube that keeps cold air at bay, but the zipper is a bit stiff and seems small for this application. It might loosen-up with more use.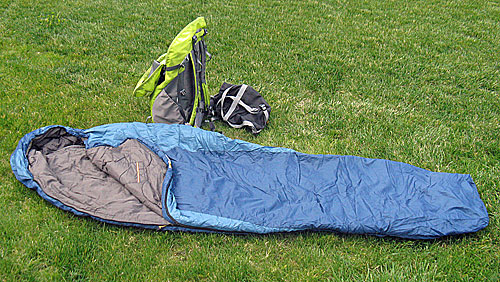 The Kotey is rated to 35-degrees, which I have not been able to tryout, yet. After several nights in the low to mid-40s though, I'm confident that the Kotey is going to be comfortable down to its specified temperature. This is exactly what I was looking for in a sleeping bag, one that was small enough to fit inside my daypack and warm enough to handle the summer Sierra high country.
See also…