Every year, Steve Cheslock takes his family camping at East Harbor State Park, on Lake Erie in Ohio. Like most of us who camp, Steve had seen his share of people struggle with tent stake removal over the years, but last year he got to experience it for himself when it came time for him to tear down his tent. This got Steve to thinking about a better way to remove stubborn tent stakes from the ground and, in January of this year, the STAKE BUDDY™ was born.
I spent a few months mulling over design ideas and by October, I had filed the preliminary patent paperwork. We bought an industrial sewing machine and tested various fabrics for the handle and the straps, trying to find the right mix of how it looked, quality, and cost.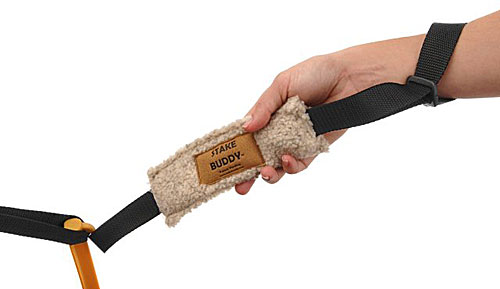 Just when you think every outdoor product that could ever be invented has already been invented, along comes Steve and his STAKE BUDDY to prove me wrong. The beauty is in the simplicity of the design, which gives the user the leverage needed to effectively remove a stake without damaging the tent (or turning the stake into a projectile!).
Possibly the best feature of the STAKE BUDDY is that it will easily fit in your tent bag or stake bag, so it's always available when you need it. I have traditionally used a standard claw hammer when I run into stuck stakes, but sometimes the car can be a long ways away  –  which encourages tugging on the tent strap, instead.  $15 is a small price to pay for insurance against a ripped tent.
For more information about the STAKE BUDDY visit www.stakebuddy.com.
See also…