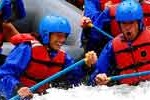 Ashland is located on the border of Oregon and California along the I-5 corridor and is most famous for its world-class Oregon Shakespeare Festival, which runs through November. While the festival is certainly a destination in its own right, Ashland also borders on the Klamath National Forest, with its countless outdoor opportunities. Crater Lake is also nearby – just a couple hours to the north. One of the most popular activities is enjoying a half-day rafting trip. This year in particular, with more visitors expected and temperatures heating up, the Rogue River will be the place to escape and get off the beaten path.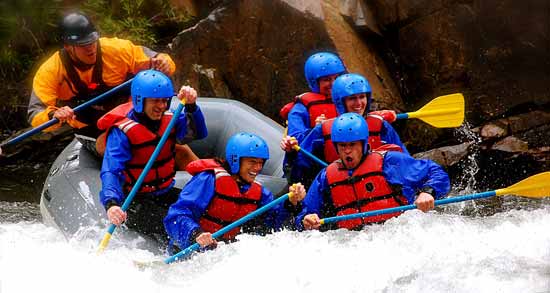 Indigo Creek Outfitters is a new sponsor, here at CampingBlogger, and they are one of just a few businesses that operate rafting trips on the Upper Rogue River, which offers the closest rafting to Ashland, Oregon. "It's going to be a great season on the Rogue River and we are very excited to begin operations," says Will Volpert, owner and founder of Indigo Creek Outfitters.
Indigo Creek Outfitters, which takes its name from a large creek deep within Southern Oregon's Kalmiopsis Wilderness Area, offers half-day whitewater rafting trips on the Rogue River near Gold Hill. The section of river, known to many as the Nugget-Powerhouse stretch, offers the closest rafting to Ashland, Oregon. "From our River Center in downtown Ashland, it really could not be more convenient," says Volpert, who has been involved in the whitewater rafting industry for over a decade.
The River Center, located at 130 A Street in downtown Ashland, serves as a retail store and meeting site for the trips. "We have items available that make a rafting trip a breeze," says Dana Woodruff, who manages the River Center. "From sun block to sunglass Chums, we've built a one- stop-shop for your rafting trip."
Indigo Creek Outfitters is also the only Rogue River outfitter to offer professional digital photographs to their customers. "When customers return from their trip, photographs taken of their raft running Nugget and Powerhouse Rapids will be on display in our store," explains Woodruff. It's a service that, according to both Woodruff and Volpert, has been very popular on other rafting trips but has yet to be offered on the Rogue River.
I'm excited to have Indigo Creek Outfitters onboard, here at CampingBlogger. Whitewater rafting is a great outdoor family activity that gets everyone involved – and it's as much fun for mom and dad, as it is for the kids.