Many people, particularly during these tough economic times, are reluctant to go out and make an investment in camping gear until they are convinced that family camping is something they will enjoy on a regular basis. The good news is that you can achieve a similar outdoor experience, without having to invest in tents and sleeping bags.
Stay in a Cabin

I'm a big fan of state parks and there are a lot of them that provide cabins right alongside their more traditional campsites. Most parks offer "rustic" cabins, meaning they are sparsely furnished with just a bed and table, but some also offer more upscale versions that are furnished and equipped like a hotel suite in the woods. Cabins are particularly popular in the winter because they provide you with a place to warm-up after a busy day of playing in the snow.
Stay in a Yurt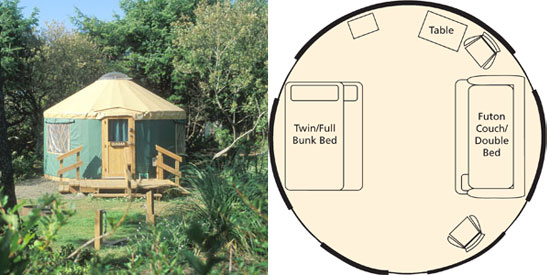 Yurt camping is a lot like tent camping except the "tent" is a permanent structure called a yurt. Yurts are circular, domed tents made of heavy canvas. Unlike camping tents, yurts usually have solid wood floors, along with lighting, heat and basic furnishings. Just bring your own pillows and blankets, food and dishes to prepare meals and eat with. Renting a yurt is a great way to get a feel for tent camping and experience a weekend in the outdoors.
Locating Cabins and Yurts
You can use the resources right here on CampingBlogger to locate cabins and yurts at many state parks across the country. Just click on the "Campgrounds" menu and select your state from the drop-down list. Below the map of your state will be a link for campgrounds that will take you to your state's park page. Some states, such as Oregon, Virginia and Arkansas, make it very easy to locate cabins or yurts by putting a link right on their home page. Others don't do so well and it is sometimes easier to use Google™ and search on your state's name and the word "cabin" or "yurt."
What to bring
The advantage of cabin or yurt camping, for new campers, is that you don't have to have a lot of camping gear, in order to get started. You can use your existing bedding and bring your own dishes and appliances, since cabins and yurts usually have electricity. You will need a camp stove and an ice chest, though. Realize, too, that the bathroom and shower facilities will be located some distance from your cabin or yurt, so bring flip-flops, towels and toiletry articles.
See also…