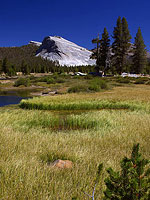 You don't have to be an environmentalist or even that interested in green issues, to realize the importance of limiting your impact on the environment in the backcountry and preserving what we have left, for future generations to enjoy.
Limiting your impact on the environment is just a smart way to camp and it doesn't matter if you are camping in a tent or a million dollar RV. In addition to the seven standard Leave No Trace principles, here are some steps you can take to lower your impact on the environment:
Camp in campgrounds. Dispersed camping, or camping outside of designated campsites, is a great way to go camping, but there is no way to match a designated campground for low-impact camping. For instance, designated campgrounds have toilets, gray water traps, garbage cans and fire rings.
Prepare meals at home. One of the easiest ways to practice low-impact camping is to reduce the amount of pre-packaged food waste that we take with us into the backcountry. One of the worst culprits that we discovered was our kid's juice boxes. The cellophane straw wrappers become detached from the boxes and end up all over the place and the inside of the box is coated with some kind of foil or plastic liner. Whatever it is, I'm sure it has no business in a campfire.
Don't burn trash in the campfire. We used to burn everything that was paper or cardboard, which is how we discovered what was inside a juice box, but we now try to limit what we put into our campfire to just wood. Ash from paper and cardboard tends to be carried aloft by the campfire and spread over a fairly wide area.
Use as much garage sale gear as you can. Outdoor manufacturers like Patagonia, Nau, and Big Agnes are making greener products all the time, but it's hard to get lower-impact than reusing old gear.
Limit your use of water for cleaning and washing. Drinking water is valuable in the backcountry, so preserving as much of it as you can for drinking just makes good sense. There are a number of waterless soaps and shampoos on the market that work great and don't generate dirty, soapy water (gray water) that must be disposed of.
Make your own snacks. What doesn't burn or decompose in landfills? Well, lots of things of course, but energy and breakfast bar wrappers are what I was getting at. Most of them are junk anyway, so do yourself two favors and make your own trail mix or gorp at home.
Simple Trail Mix
1 can (11.5oz) of mixed nuts
1 cup of peanut M&Ms
1 cup of raisins
Stop using disposable propane tanks. This won't be popular with the manufacturers, who are increasingly churning out products that use the 1lb. disposable propane tanks. Adapter hoses are available that let you use refillable propane tanks instead of the disposables, though.
See also…