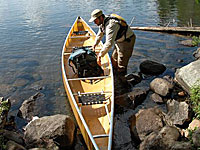 This is a guest post by Suzi Dow at ForestCamping.com. If you would like to guest post on CampingBlogger, please see the About page for my contact information.
Every January, I start planning for the upcoming camping season. In the beginning, camping was a break from my life of a 9-to-5 job, bills, and the same-old, same-old. Then came a husband and children. So, camping became an affordable family vacation. Today, it seems everyone is looking for an affordable family vacation and many are discovering camping.
Now, Fred, my husband, and I spend months camping each year while researching national forest and grassland developed campgrounds. We have been to 155 national forests and nine national grasslands and have surveyed more than 2,383 national forest and grassland developed campgrounds. To see what we do, check out our website at www.forestcamping.com.
At one time, we enjoyed camping vacations in national parks. Today, with entrance and camping fees, "Stay on the Trail" signs, commercialization and crowds, parks just aren't as much fun. The following are suggested alternatives to vacations in national parks. Each gives you a place for an affordable family vacation without the crowds and commercialization – you can explore the area on your own terms and even Spot is welcomed.
Dixie National Forest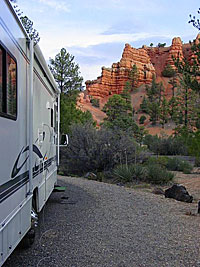 Dixie National Forest in southern Utah is my alternative to Bryce National Park. The starkly beautiful scenery in the Dixie may be even more spectacular. Certainly, the colors are definitely brighter. Red Canyon campground would be my first choice but there are other campgrounds within an easy drive of the Park.
The trails around Red Canyon are incredible. For example, Arches trail (ask the Visitor Center staff about its connection to Butch Cassidy) is good for the whole family while the Golden Wall Trail, with incredible vistas that seem to reach into tomorrow, is better suited to more experienced hikers.
Olympic National Forest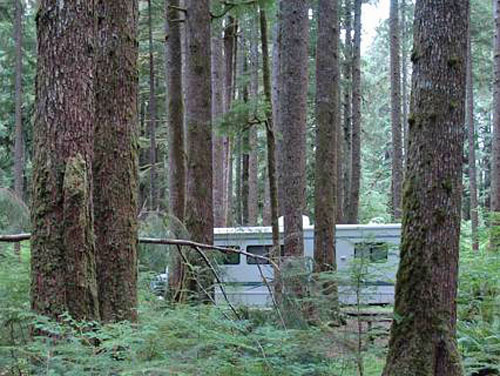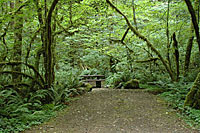 Olympic National Forest surrounds the Olympic National Park, Washington. Klahowya campground is magical and gives campers a good base to explore the forest, the park, and nearby communities. The views of Sol Duc Valley from Crescent Lake to James Island from the nearby Klashe Nanitch Lookout are amazing! And a day trip to Rialto beach is a must if you get bored with the lush emerald green environment found at Klahowya.
Gallatin National Forest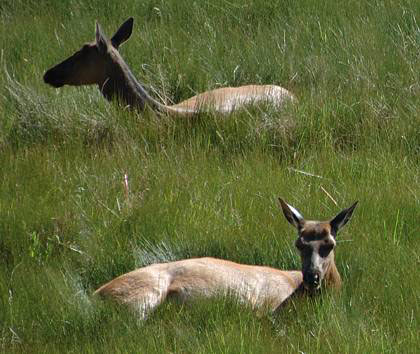 Gallatin National Forest in Montana hugs the north side of Yellowstone National Park. Soda Butte and Colter campgrounds are less than eight miles from the Park's northeast entrance and hardly anyone knows about them. You could see more elk than people during a week-long stay from either of these campgrounds.
Located above 7,300-feet, these campground open closer to July 4th than Memorial Day each year. If you can't wait for July, there are dozens of alternative campgrounds in the Shoshone, Custer, Beaverhead, and Targhee National Forests.
George Washington National Forest
George Washington (GW) National Forest in Virginia is a relatively short drive from the Washington, DC but seems like another world. When the Shenandoah National Park and Blue Ridge Parkway are cheek-to-jowl with visitors, the GW remains pleasantly uncrowded. Elizabeth Furnace campground has, like several of the forest's campgrounds, a solid connection to the area's history.
Elizabeth Furnace, at one time, produced pig iron for our young nation. From nearby Signal Knob, accessed via a trail from the campground, you can see up and down the Valley. It's easy to imagine warriors and soldiers from bygone days sitting on Signal Knob and watching the enemy's movements.
Kaibab National Forest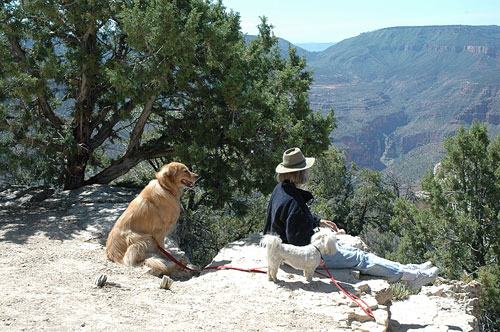 The Kaibab National Forest, in northern Arizona, surrounds the Grand Canyon National Park. Minimal crowds, lots of shade, and the freedom to wander at will are the main attractions of this national forest. Ten-X campground, located south of the Grand Canyon, is a good alternative to the Park's crowds and shadeless South Rim environment. DeMotte Park campground, at the end of a large mountain meadow, and Jacob Lake campground, with lots of trees but no lake are on the Canyon's north rim.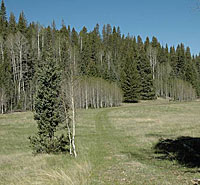 These campgrounds are at higher elevations so they are cooler and surrounded by a vast Ponderosa pine forest with robust wildlife populations including elk and the unique Kaibab squirrel. There are also some outstanding four-wheel drive trails that lead to amazing overlooks, convenient to these campgrounds. Note: The actual rim of the Grand Canyon is a drive from these campgrounds but there is so much to see between the campgrounds and the rim, the miles go by quickly.
Here are some non-national park related suggestions. The number is limited and provides only a tiny sample of the possibilities. A visit to any one of these could be enough to make you consider giving up any future national park vacations.
Sawtooth National Forest
In the Sawtooth National Forest in Idaho is the Sawtooth National Recreation Area (NRA) and its many campgrounds. Redfish Lake, the NRA's centerpiece, has to be one of the most glorious places you'll ever see.
This 1,519-acres Lake is surrounded on three sides by the Sawtooth Wilderness with some 300 alpine lakes, outstanding trails for hikers and horseback riders, and mountains that look like they are holding up the sky. The whitewater recreational opportunities in this area are fabulous. One activity to experience in the Sawtooth NRA is watching the spawning salmon. Also, check the Visitors Center for the "kid-friendly" activities and the Junior Ranger program.
Francis Marion National Forest
Buck Hall campground, in South Carolina's Francis Marion National Forest, is one of two Forest Service campgrounds on the Atlantic coast. Buck Hall campground is actually on the Intracoastal Waterway. There aren't sandy beaches and rolling waves. However, you can watch the fishing boats and yachts motor by and see the birds enjoy the bounty found in nearby saltwater marshes from your campsite.
Buck Hall is a campground were you can fish for shrimp or shark and about everything in between. And historic Charleston, with all its sights, shops, and restaurants, is about 20 minutes away.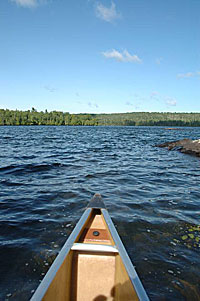 Superior National Forest
Sawbill Lake campground, in Minnesota's Superior National Forest, might be the best location for exploring the Boundary Waters Canoe Area Wilderness (BWCAW). A word of warning, once you paddle out on the BWCAW, you will want to do it again, and again, and again.
There are many entry points to the BWCAW but staff at the Sawbill Canoe Outfitters, adjacent to the Sawbill Lake campground, is outstanding and makes this entry point a step above the others.
Carson National Forest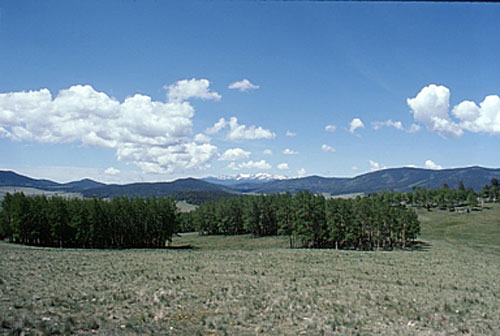 Valle Vidal Wildlife Management Area of Carson National Forest in New Mexico has only Cimmaron and McCrystal campgrounds. They are nice campgrounds but the real attraction of Valle Vidal is its pristine condition. Valle Vidal is 100,000 acres of open range, high desert prairie like you'll find nowhere else.
Open range horseback riding is a major attraction for the Valle Vidal. The panorama of rolling hills covered in lush grass, rippling in the wind, and scattered islands of Ponderosa pines is unforgettable. In Valle Vidal it is easy to imagine the way the West was when it was still "wild.
White River National Forest
Trappers Lake Recreation Area in Colorado's White River National Forest is adjacent to the Flat Top Wilderness. This is one of those places that has it all: fishing, hiking, scenery, and everything you need for an outstanding national forest camping experience, e.g. Shepherd's Rim campground.
Colorado has lots of great camping opportunities but few can match Trapper Lake Recreation Area for a more well-rounded family camping vacation spot. The story goes Arthur Carhart was sent out to survey the area for tract of summer homes. He was so impressed by the wild beauty of the place he convinced the authorities to keep it as is and not allow construction of homes.
With time spent at Trappers Lake Recreation Area among the magnificent mountains, near clear sapphire blue lakes, and under the black velvet night sky, you will thank Mr. Carhart for his foresight.
There are many opportunities and delights to be discovered in a national forest near you. To learn more about the national forests and their campgrounds mentioned here, as well as other national forests, please visit the U.S. National Forest Campground Guide website, www.forestcamping.com.
See also…