I've never been a big photography-nut, but one of the things that I really enjoy in the outdoors is trying to get pictures of wildlife. My current camera is a Cannon PowerShot A720 IS, which has a bit more zoom (6x) than most cameras in the $250 class. I probably don't use 10% of this camera's functionality, which speaks well of its quality because it still gives me good results.
My girls, who are 7 and 8, are just starting to get interested in taking their own pictures on our family camping trips. I think this will be a great way to develop their interest in the outdoors as they grow older.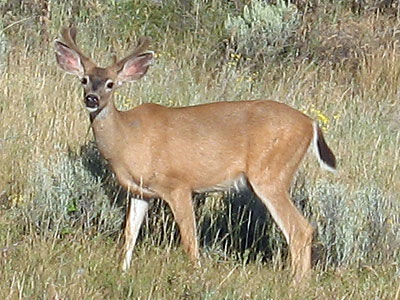 I snapped this young buck, still in full velvet, in the Siskiyou Mountains last July. I was lucky to catch it open terrain during the middle of the day, so I had good light. Getting good pictures of deer can be a challenge, since they are usually only seen the early morning hours in the cover of trees. I have a lot of pictures of deer that look more like dark pictures of trees!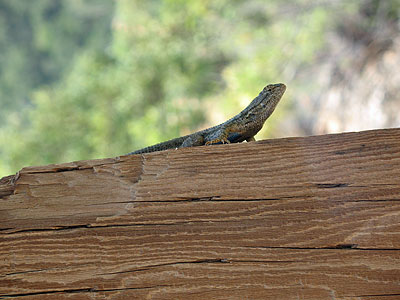 Small animals, like this lizard, are a lot of fun to shoot. The biggest challenge, like deer, is catching them against some kind of contrasting background so that they will show-up in the picture. I took a photo of a much larger lizard on this same day, but it was on the ground, making it difficult to actually see it in the picture.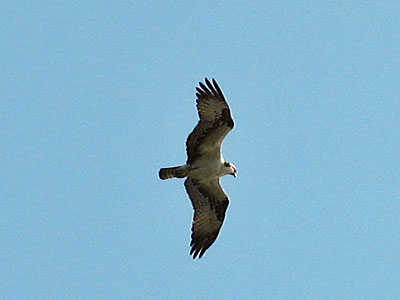 Birds are probably the most-photographed animals, but it's real challenging to get good shots of them. We had just setup camp in the Sierra Nevada Mountains, at around 7,000 feet, and walked down to a lake where we spotted this female bald eagle. Situations like this are where having lots of zoom and lots of megapixels can turn a ho-hum shot into something useful. The pixel-density of this shot, which was mostly blue sky, allowed me to crop the image down so that the eagle fills more of the frame, but the picture is still large enough to make decent prints.
One thing I've learned about outdoor photography is that it takes a lot of pictures to yield a few good ones! The PowerShot came with a 16MB memory card which was good for about three shots. It was immediately relegated to the junk-drawer and replaced with a 2GB card, so I can always snap-away without worrying about running out of room.
Have you taken any good wildlife shots? If you have a blog, or an online photo account (Flickr, Photobucket, etc.), how about posting a few of them and leaving a link in the comments, below.