I was thumbing through the Friday newspaper ads and our local sporting goods store was advertising some $20 tents, which left me to wonder what you really get for that kind of money. Dimensionally, the tent is in pretty good shape, with a 9×9 foot floor and a 72-inch vertical center-height. The walls are fairly vertical, so much of this floor-space is usable, though the ceiling tapers over quickly so most of the vertical height is really about five feet – which is still not bad.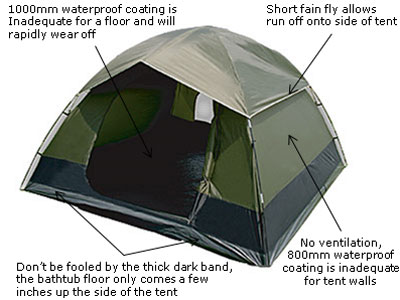 The tent might be dimensionally sound, but where it really falls down is in the materials and construction. Ventilation is limited to a small mesh portion at the very top of the tent and a single window at the rear of the tent. A tent can be really miserable without adequate ventilation and a tent that sleeps four people needs a lot of it! With four people snoring away inside a nylon cocoon, you can actually end up with more water (in the form of condensation) inside the tent, in the morning, than outside on the ground.
The rain fly on this tent, if that is what it can really be called, will send all the moisture right onto the sides of the tent, where it will quickly soak through the 800mm polyurethane coating whenever someone touches it from the inside. This rain fly also offers no protection from the wind, which will be cutting right through the thin sides of this tent, making for some cold nights. A good rain fly that comes all the way to the ground can really help insulate a tent by trapping a thin layer of air between the rain fly and the sides of the tent.
Is this tent worth $20? Maybe if you only plan to use it once or twice in the middle of summer. Even then, you should really baby the floor by placing a heavy tarp underneath the tent and another tarp inside the tent, to help protect the waterproof coating.
See also…