In my last post I talked about the Coleman liquid fuel camping stoves and how that relatively simple and durable design has proven itself for several generations of family campers. Today I'll take a look at the propane camping stoves, which have largely replaced liquid fuel stoves in popularity. Propane stoves are self-priming, which is a big advantage over liquid fuel stoves, and their propane tanks are sealed which eliminates spill and smells.
In my experience with several of these models, they are not quite up to the construction standards of the Coleman Model 425 liquid fuel stove, which has a heavier-gauge steel construction and higher-end burner assemblies. Even if you won't be passing these camping stoves down to your children, though, they're still good stoves that will give you years of effective service.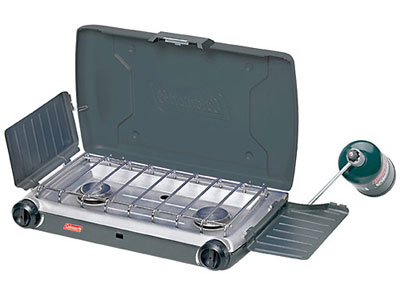 The Coleman PerfectFlow™ is typical of the lower-end propane camping stoves and retails for $60. The burners are 9½ inches apart, which is identical to the Model 425 liquid fuel stove, and supports two 10-inch pots or pans. There are no frills on this camping stove, not even a piezo lighter – although that is available for an additional $10 on Colman's InstaStart model. The windscreens are very effective and fold flat and out of the way, much better than the windscreens on the Model 425, which fold inward.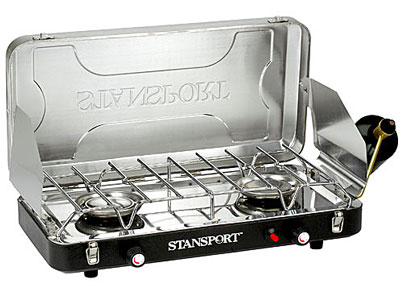 The Stansport Outfitter Series is similar in size to the Coleman PerfectFlow camping stove and offers stainless steel on both the lid and the burner tray, for $80. Despite the impressive-looking stainless steel, construction of the Stansport is generally lower quality than the PerfectFlow, but it is a fine performer in the cooking department.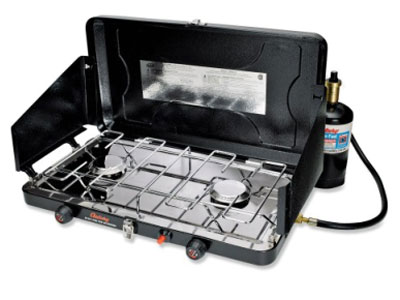 The Century 4680 differs from the Stansport and the Coleman in that the propane canister is connected via a hose, instead of a hard tube. This makes it easier to use the camping stove with a refillable propane tank, instead of disposable canisters. The Century stove also differs in that the burners are 11-inches apart, instead of the more common 9 ½-inches, making it possible to use larger, 12-inch pots and pans if the windscreens are folded down. This stove is also sold by Primus under their Atle product line.
Propane camping stoves all share a common problem of controlling the heat put out by the burners. Despite the temperature control knobs, the flame is very difficult to control between "full" and "off." This is generally not a big problem, but don't plan on simmering foods or keeping things warm after they cook. All of these stoves are easy to clean and there is little or no maintenance required to keep them going.
See also…