Liquid fuel camping stoves are available in small, single burner backpacking configurations and large two and three burner tabletop models that are suitable for family camping. Coleman is currently the only manufacturer of liquid fuel, multi-burner, camping stoves for family camping. The advent of disposable propane canister stoves has greatly reduced the interest in these liquid fuel versions, but Coleman continues to support four models.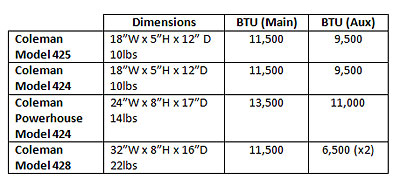 The venerable Coleman Model 425 stove dates from the late 1940s and remains largely unchanged, today. Its simplicity and durability are proven by the fact that many twenty, and even thirty, year old Model 425s are still in use. They may not be as easy to start as their propane-fueled counterparts are, and they require periodic cleaning and maintenance, but white gas stoves burn hot and are not affected by altitude, like propane camping stoves.

Coleman updated their original design to support unleaded gasoline, as well as traditional white gas, creating the Model 424 stove. Unleaded gasoline does not burn nearly as clean as white gas, and is only recommended for world travelers that find themselves in locations where white gas is not available. Diesel fuel cannot be used in these stoves and Coleman does not recommend unleaded gasoline that contains more than 10% ethanol. The instruction manual for the Coleman dual fuel stoves also clearly states that, unleaded fuels may vary in quality and can affect generator life.

The generator that the instructions are referring to is the gas tube that connects the fuel tank to the main burner assembly.
At 32-inches wide, the three-burner Model 428 adds a second auxiliary burner and the larger, 3.5-pint, fuel tank from the Powerhouse Model 424. The other models use a 2.5-pint fuel tank. Because of the larger fuel tank, the total operating times of all the Coleman stoves is a similar two hours, with all of the burners on their highest settings.
How durable and reliable are these Coleman camping stoves? I recently purchased a 1964 model 425 stove for another project on CampingBlogger. Have a look, while I attempt to fire up the stove for the first time…

See also…