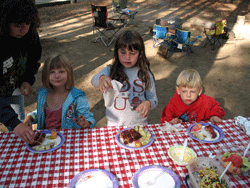 Camp cooking is a popular topic and there are a myriad of recipes available on the Internet covering every conceivable style of outdoor cooking, from dehydrated meals requiring only hot water, to extravagant dutch oven meals made from scratch and cooked over a campfire. Camp cooking can be a lot of fun and, owing to its popularity, a lot of people must find it enjoyable. It's important to remember, though, that if you are camping with your family for a weekend of "getting away from it all" and destressing from a hectic week, keeping your camping meals as simple and easy as possible might be more inline with your goals.
Our strategy for camp cooking is to keep it simple. For the most part, we do not differentiate between "camp cooking" and the regular weekend family meals that we have at home. This may be boring for some who like to make camp cooking more of a special event, but sticking with the same foods eliminates an extra trip to the grocery store and reduces our risk of forgetting something important.
On a typical weekend camping trip, we will arrive and setup camp right around dinner time. This meal has to be quick and easy, since the sun is going down and we do not have a lot of time to prepare a meal. Our favorite type of meal for this situation is a pasta dish, with an off-the-shelf sauce. Preparation is limited to boiling some water for the pasta, and it is a big hit with the kids. Other options would be soups, stews, curries, and similar dishes.
Saturday morning is the real start of camping, for us. There is something special about waking up in the backcountry that calls for a hearty breakfast. Pancakes are quick and easy, but we like to also add some eggs, or maybe some ham or bacon. A meal like this really highlights the utility of a large frying pan, or a griddle. It also highlights the size-limitations of many dual-burner camp stoves. The burners on our Coleman are 9 1/2 inches apart and can support two 10-inch pots or pans, simultaneously.
Lunch is a much simpler affair, but it is still an important meal for us since we are either just coming in from a hike, or getting ready to head out. During the warm summer months we will have sandwiches and chips (admittedly something the kids don't usually get at home, but it's camping!). In cooler weather, though, we will pair this with a soup.
Dinner could range from hamburgers to ribs or steaks, but it is usually something on the grill (along with our Coleman, we camp with a Weber Q grill). We usually pair this with baked potatoes or corn-on-the-cobb, both grilled over the campfire. With five of us, there is not enough room for everything on the Weber and there is something special about cooking over a campfire.
We try to keep our meals simple when we are camping, but simple doesn't mean that we cannot prepare some tasty meals. We want camping to be special for the kids and camp cooking is an important part of that. What is your strategy for camping meals?
See also…