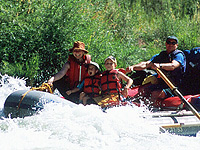 I was talking with Will Volpert of Kern River Outfitters, this weekend, and he said that they just finished-up their staff training sessions on the river, May 14th. June is the best month to raft the upper Kern (above Lake Isabella) because it is fed entirely by snow-melt from the Sierras and the water-volume through the Forks of the Kern will drop-off significantly through the summer. Checkout Will's blog for a cool video on some of their Forks of the Kern action.
The Forks of the Kern is totally different from the Lower Kern, that portion of the river that is below the damn at Lake Isabella. While the Lower Kern is perfectly suited for families with kids, the Forks is one of the wildest navigable rivers in North America – at least until the flow subsides, later this summer. The trip is 22 miles long and features huge Class V drops and numerous Class IV whitewater shooting through a breathtaking, narrow gorge. For those of you not familiar with the classification of rapids, Class V is the highest navigable rapid. For Class VI rapids, you portage the boat and walk around it.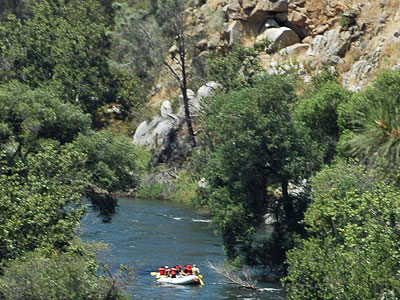 If you are looking for a little adventure this summer, checkout the Forks of the Kern that Outside Magazine described as:
The serious heart in throat moments come mid-run at the back-to-back Class V Vortex/Gauntlet doubleheader: a ten-foot slide followed by unscoutable drops that roll on for a seeming eternity.
The Forks of the Kern is one of, if not the, premier whitewater rivers and these trips fill-up fast – particularly since the Kern River is close to Los Angeles. Check with Kern River Outfitters for June dates and times.
See also…