I subscribe to Outside Magazine and I look forward to reading it every month, but an article in the June issue purporting to offer the "coolest summer swag" left me wondering if somebody had slipped me a GQ, by mistake. Granted, the Outside editors include some unquestionable hits, Like the BOB® Revolution stroller and the awesome Powers Vertical™ pants, from Columbia Sportswear®, but the rest of the stuff is mostly overpriced elitist junk that you're just as likely to find in a men's fashion magazine. Here are five of my favorite "essentials" from the article:
My grandfather sometimes wore a fedora. That goof actor, Lucas Grabeel (High School Musical – I have 8 year-old girls, remember?) wears a fedora. For the life of me, though, I have no idea what a fedora has to do with "coolest summer swag."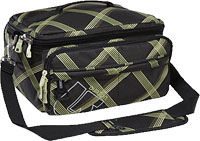 Burton® Lil Buddy
Soft-sided coolers are always a bad idea for anything other than a Sunday picnic, and stuffing a set of cheap speakers into it doesn't make it any better (the Lil Buddy includes amplified speakers and an aux jack for an mp3 player). Burton says the Lil Buddy is "perfect for a 12-pack," but at 13″ x 11″ x 8″ there's scant little room for ice. Warm beer and weak tunes – perfect!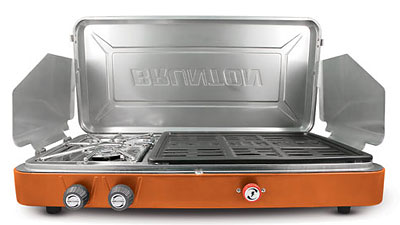 Brunton® Profile Duo™ stove/grill combo
Brunton makes great gear and I'm sure the Profile Duo is a top-notch stove. At $137.95, though, it's twice the price of a "regular" camp stove. I'm a firm believer that grills are for grilling and stoves are for cooking, so I'm not a big fan of the combo stoves. Brunton does not provide any dimensions on the grilling surface of the Profile Duo, but the grilling side on most of these combo stoves is about the same size as a $15 griddle or frying pan.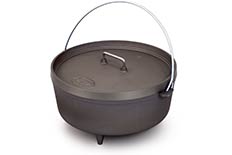 Like the Brunton, there's nothing wrong with GSI's dutch oven except it's $110. I know aluminum is a lot lighter than cast iron, but similar Lodge Logic® dutch oven (cast iron), like the ones I gave away last month, are only $30.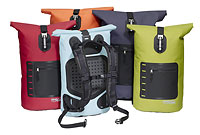 Nothing screams, "I've never seen whitewater" louder than carrying around a waterproof bag in the city. For $100, it's just a bag (single compartment) with couple of pockets on the outside. Also, it's just coated polyurethane, so be gentle with it.
See also…