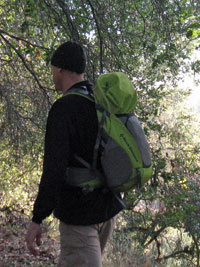 It sure is nice when you can get away with the kids for a day of hiking, in December. My son and oldest daughter joined me for a shakedown cruise with the new Octane pack, from Black Diamond®. Though still technically a daypack, at 28 liters the Octane is a big step-up from my 8 liter CamelBak®. For this trip, we headed up to Henry Coe state park in south San Jose. Henry Coe is the largest state park in northern California, encompassing some 87,000 acres and was actually on the chopping block earlier this year, when the state was embroiled in budget woes. Needless to say, we paid our $8 use fee and I was happy to see quite a few cars at the headquarters entrance.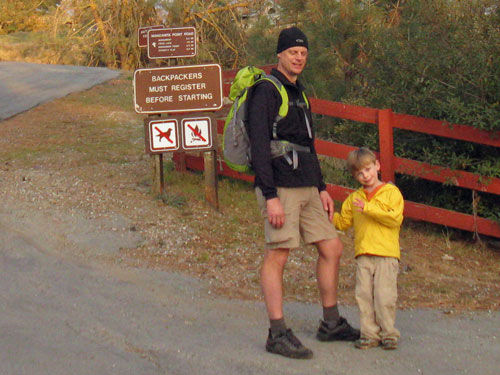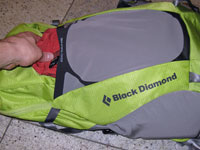 The Octane has a nice, streamlined, shape that doesn't have any bulges or pockets protruding from it to catch on branches and brush. The Octane has two side pockets that easily accommodated my 18oz. Klean Kanteen™ and a larger exterior center pocket, where I stowed my Cloudveil® Crystal Creek rain shell. The nice feature of the Octane is that even with a water bottle and a rain shell within easy reach, there wasn't anything protruding from the pack to snag on brush.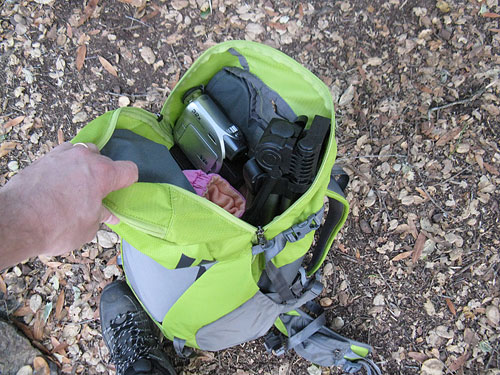 The big center compartment accommodated the rest of my gear, along with extra jackets for the kids. It even swallowed-up my camera tripod, which is over 22-inches long. The Octane has a lot of space for a daypack, but it didn't feel big or bulky to wear. From a comfort standpoint, it's better than my smaller daypack, since the hip pad creates an air space between the pack and the small of your back. Where the pack does make contact with your back, air circulates through channels between seven foam pads behind a nylon mesh material.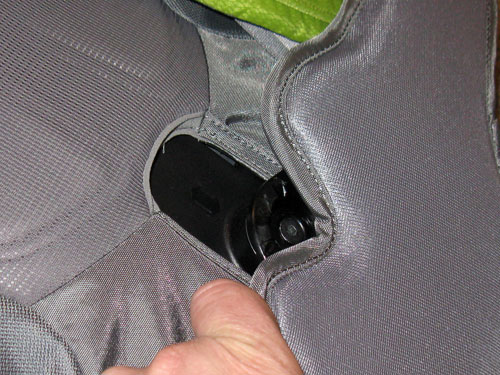 The hip pad is connected to the pack by a center-pivot lug that allows the pad to move with your body without rocking the pack from side to side. In addition, the bottom of the shoulder straps are not sewn to the pack, but are connected to each other via a stainless steel cable that is routed through the bottom of the pack. The shoulder straps go up and down with the movement of your shoulders, instead of causing the pack rock back and forth. Black Diamond calls these features their ergoACTIV™ suspension system and it really does help keep the pack from moving around. If you would like to see more on the Black Diamond Octane and Henry Coe State Park, here is a five-minute video that I took during our hike.

Trying out the Black Diamond Octane pack from Roy Scribner on Vimeo.
See also…