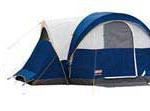 This is a guest post by Josh Turner at CampingGearTV.com. If you would like to guest post on CampingBlogger, please see the Guest Posting page for information.
Wal-Mart is probably the market leader in affordable, family camping gear. Their selection exists within the confines of one small aisle, but they have everything you could need for a trip to your favorite campground. All the way from Disney themed sleeping bags (I prefer The Little Mermaid), to high-end Coleman portable stoves. Some of this stuff is pretty decent, and some of it…not so much.
Just as with anything, buying the absolute cheapest stuff usually isn't the best idea. As we discussed in our series on Cheap Wal-Mart Camping Gear, a number of the cheapest products in Wal-Mart's stock are indeed cheap in quality as well as price. Most items under the "Outdoor Products" brand are very low quality. They come with a price to match, but stay away from these.
Outside of this brand, you really can find some nice values at Wal-Mart. Their $25 Ozark Trail 2 Person Dome Tent is quite serviceable for such a ridiculously low price. With some aftermarket improvements such as waterproofing, it could be made even better. Granted, it will not compare with a $150 tent. But it's $25, not $150. You might assume that this tent is a piece of junk, but do some research on the web and you'll find tons of people that have gotten tremendous value out of this tent.
Ozark Trail also makes some nice sleeping bags that (for $10) really can't be beat for affordable family camping. Rated at 40 degrees, we found that these sleeping bags got the job done. However, you might want to spend a little more money in the area of chairs. While very cost effective (about $10 as well), the plastic frames on the Ozark Trail camp chairs might not last more than a season or two. Especially with the abuse that youngin's can sometimes impart on their equipment.
Aside from these cost effective brands, Wal-Mart is one of the few places that sells Coleman gear. One of the most tried and true brands in the camping world, I have yet to find a complaint about any of Coleman's products. In fact, every one of their products I've ever used has been very solid. I know there are exceptions, such as the air mattresses mentioned here on CampingBlogger, but my experience has been 100% positive. Take my 25 year old camp stove, that still works perfectly after years and years of abuse. Enough said.
At the end of the day, you can always find good and bad products regardless of where you shop. Sure, Wal-Mart has some poor quality, low-end gear that should be avoided. But, they also have some great values. For one reason or another, many people just don't like to shop at Wal-Mart. But for everybody else that is preparing for a family camping trip on a budget, Wal-Mart has some great finds that won't break the bank.
Josh Turner produces and hosts the web show CampingGearTV.com, featuring camping and backpacking gear reviews. The show is also known for actionable advice on fending off bears using unorthodox and impractical methods. For more on their "Cheap Wal-Mart Gear" experiment, visit CampingGearTV.com.
See also…