Somehow, Father's Day ended up being maintenance day around the house, but since it was my day, I decided to prioritize a little maintenance on the gear before I took on the yard. One of my primary pieces of gear is my CamelBak® hydration pack, which provides the family with water, snacks, and usually a lunch on our hikes. This pack is admittedly overkill for light use, but it came with a prior job assignment so the price was right and unlike a nylon daypack, I don't have to worry about wear and tear. I thought I'd snap some pictures while I cleaned the hydration bladder, so that you could all participate in a little maintenance with me!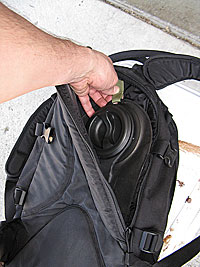 If you are looking for a hydration pack, make sure you get one that provides access to the hydration bladder from the outside of the pack, so that you do not have to empty the pack to access it. On the CamelBak, you just unzip the hydration compartment and unhook the bladder.
The hardest part about removing the hydration bladder from the pack is routing the drink tube through all its various clips, loops, and slots.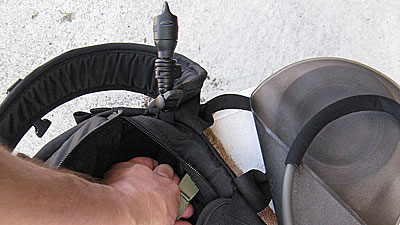 Every hydration pack I've ever seen provided slots for the hydration tube on both sides of the pack, and it's an important feature to look for. I prefer to have it come over my left shoulder for no other reason than comfort and familiarity, but the option is there if I preferred the right and this is one of those things you won't know until you use it for awhile.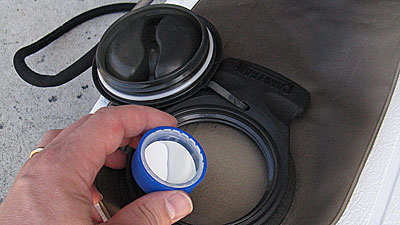 I use standard bleach to clean the hydration bladder. I add a few capfuls of bleach, then fill the bladder with water. It is important to drain some of the mixture out of the drinking tube to make sure it gets into that part of the system, too. I then let it sit for several hours.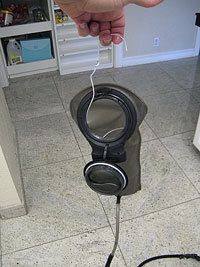 Once I'm ready to rinse the hydration bladder, I dump the bleach solution out of the bag and refill with clean water. As before, I drain some of the water out the drinking tube to flush the bleach from it. I will repeat this process, with clean water, about four times to get the bleach smell completely out. Once I'm satisfied with the smell, it's time to hang the bladder for drying. I have a coat hanger that I've bent into the shape of a coil spring in order to keep the bladder expanded while it hangs.
I have been very satisfied with using bleach to clean the hydration bladder, but there are other options out there. CamelBak makes tablets that dissolve in water, similar to denture cleaning tablets. Some people use baking soda, also. I can't speak to the efficacy of these other solutions, but if the bleach turns you off, they are certainly worth considering.
See also…