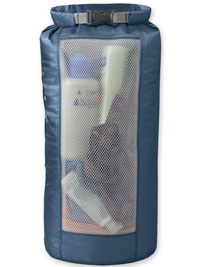 One of the most functional pieces of gear I own is this Window Dry Sack™ from Outdoor Research, in Seattle, WA. It is constructed of thick nylon, with taped seams and a big urethane window that lets you find what you are looking for, so that you don't have to dump everything out. Like all Outdoor Research products, it's guaranteed forever.
Waterproof bags are great for storing items inside your backpack that you need to keep dry and keep organized in one place, for easy access. I use the smallest model to hold essential backcountry items like my first aid kit, headlamp, fire kit, sunscreen, and extra socks. The bag is about 12-inches tall and 6-inches in diameter, so I have plenty of room for these items and more.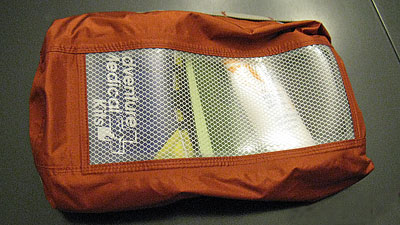 The Window Dry Sack is comes in three different colors. I chose "Cayenne" which I figured would be a bit harder to lose than the Marine or Dark Grey bags. There are cheaper waterproof bags (the 5L Window Dry Sack is $21), but the Window Dry Sack is built like a tank and the benefits of the see-through window cannot be overstated.
See also…