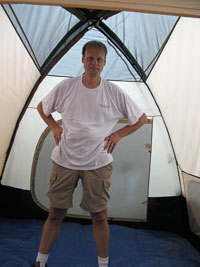 One of the best family camping tents of the year was the Grand Manan series, from Eureka!® camping tents. These tents have a simple two-pole design that is easy to erect and provides a lot of usable interior space, for a dome style tent, due to the unique shape of the poles. This year, Eureka is adding the Tour to their Grand Manan lineup and they gave CampingBlogger an early look at the new model.
Step inside the Grand Manan Tour and it's immediately apparent that this is no ordinary dome tent. I'm 6' 3" tall and I have no problem standing up in it. The sidewalls rise straight up from the floor a full 18-inches before they start sloping over, so all of the floor area is usable space.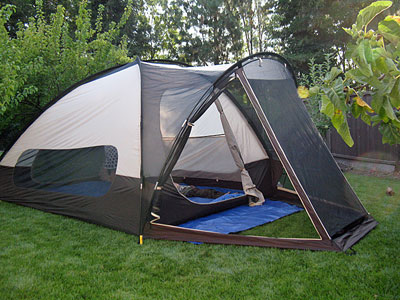 The Grand Manan Tour has a tremendous amount of ventilation, with large windows along each side, a mesh roof, a large mesh rear door and an even larger mesh vestibule area. It's a real plus in hot weather to be able to have a vestibule area without having to use the rainfly. Rollup curtains on the windows and separately zippered solid door panels provide plenty of privacy.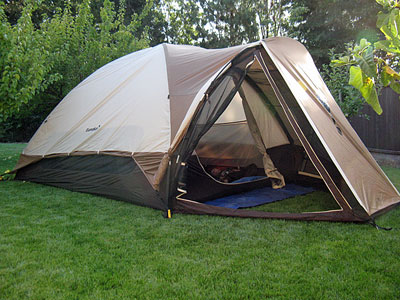 The rainfly lets in a fair amount of light and the sides roll-up to allow cross ventilation through the windows. There is also a small vent on the back of the rainfly that mates-up to the mesh roof of the tent (see below). Nobody likes to camp in the rain, but the large vestibule will keep all of your gear dry and there should be enough ventilation to keep the Grand Manan Tour from getting too stuffy. We will be tempting fate on a Fall camping trip to Oregon, so we may put this to the test.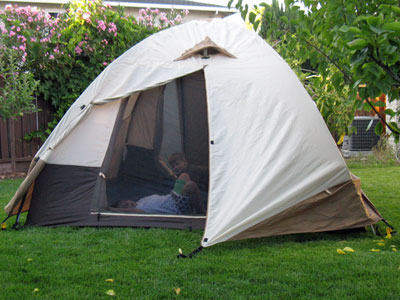 The big rear door provides a lot of extra light and ventilation. The Grand Manan Tour is well thought out and provides a lot of great features that make it one of the best family tents I've used. The Grand Manan Tour will retail for $349.90.
See also…