The outdoor retail market thrives on convincing us that we need new gear to get the most out of our outdoor adventures. This is actually a good thing, since the industry keeps coming out with better gear, each and every year. It can also go a bit overboard, though, with superfluous gadgets and fluffery that is just a waste of your hard-earned money. One way to save money on camping gear is to look for similar products outside the industry that can serve the same purpose. The big blue tarp is one of those items.
These tarps make great footprints for your tent because they are very tough and will keep sharp objects from poking a hole through your floor. The polyethylene material is also non-abrasive to your tent's waterproof coating, so it helps extend the life of your tent. Best of all, these tarps work with just about any tent (square and rectangular shapes are best) so you don't have to buy a new footprint every time you purchase a new tent. We use a 12-foot x 16-foot size and simply fold it to fit the dimensions of whatever tent we are using at the time.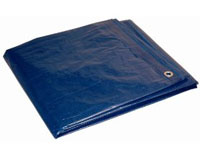 These tarps are available at nearly every home improvement and big-box discount retail store. The most common type is 5mm thick, 2.9-ounce material with a 10×8 weave. There are also heavier-duty versions that are 10mm thick, 5.5-ounce material with a 14×14 weave. We have had two of the 5mm tarps for at least ten years and they are both holding-up just fine.
In addition to their use as a tent footprint, tarps have nearly as many uses as duct tape, which is why we pack two of these.  We typically use the second tarp to line the inside of the tent, which protects the waterproof coating from shoes (despite constant reminding, our kids have trouble remembering the 'no shoes in the tent' rule) and air mattresses. If we ever needed additional rain protection or a dry place to sit, the second tarp is always available.
See also…