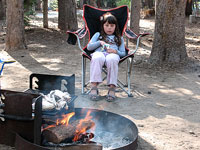 Okay, maybe that's not all she wants for her birthday, but with Chuck E. Cheese's® just down the road, a bounce park in town and the lure of a sleepover party with her favorite friends, it makes this dad proud to say that his soon-to-be nine year old daughter chose a camping trip for her birthday. Camping has been a part of our kid's lives just like going to movies or maybe a restaurant. It's still something that is special to them, but it surprises me that they still get excited about it since it's something that we do pretty regularly.
Because this is still a child's birthday, though, she didn't select just any regular camping spot to spend our weekend at. A normal camping trip for us is to get away from the crowds by heading up into the Sierras, or one of the lesser-known beaches along the central California coast. But not this time. On this weekend, we will brave the crowds at what has to be one of the more extravagant KOA campgrounds in the country – the Santa Cruz / Monterey Bay KOA. Hey, it's a little girl's birthday!
This won't exactly be "roughing it" by any stretch of the imagination, but this place is a kid's dream, with a train, a jumping pillow (I didn't know what that was either – the kids did, though), a mechanical bull, a huge playground, an outdoor theater and the list goes on. They even have a climbing wall and a climbing rock, which my daughter is really excited about because she has been climbing since she was five.
It's important to keep the kids interested in the outdoors and particularly in family outdoor activities. If that means enduring a weekend at a commercial campground once in awhile, I think I can live with that. I know that they will have a great time and I'm confident that they will still love the crisp mountain air and the quiet sounds of nature, next time.
See also…