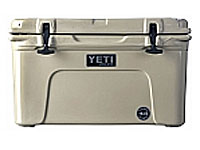 Last month I wrote about the Engel® line of rugged ice chests and while I was scanning the outdoor news on Outdoorsfile.com this morning, I stumbled across Yeti® Coolers and their equally impressive line of roto-molded polyethylene ice chests.
The 65qt. model matches up quite well with other coolers in this class, at 30 1/2 inches long by 17 1/8 inches wide and 16 1/4 inches tall. It has a full 2-inches of insulation in the sidewalls and 3-inches in the lid, along with a freezer-style gasket and rubber T-style latches on the lid. Like the Engel, this is not your typical ice chest and you will certainly pay for the privilege of owning one, but it will definitely keep your food and beverages cold longer than a regular ice chest.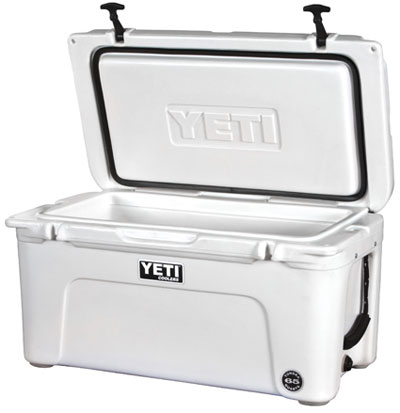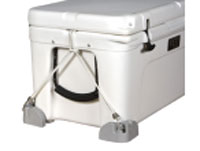 One feature that I really like about these rugged coolers are the rubber feet that help to keep the cooler from sliding around in the car or truck. Our 70-quart Igloo® weighs over fifty pounds, with food and ice, and the relatively slick plastic bottom allows it to slide all over the place, which can cause a lot of damage if we get careless about packing. Yeti goes a step further with an optional tie-down kit and a corner chock set for holding their coolers in place.
One of these days, my old Igloo is going to give way (the hinges are already making a lot of noise) and when it does, I am definitely going to consider one of these rugged models.  The extra money is easily justified by the durability and the additional insulation, which I hope will give me a true five days of use (three days is typical with our Igloo). What do you think, would you pay $300 for an ice chest?
See also…