Last month I wrote an article on two interesting new pop-up tent trailers (see Pop-up Tent Trailers) that has proven to be one of the more popular posts, here on CampingBlogger. Tent trailers are popular camping solutions for families because they provide a lot of bed space in a compact area. Tent trailers can usually be stored at home, which saves several hundred dollars a month in storage fees. Many tent trailers weigh less than 2,000 pounds, which means they are towable behind most family vehicles.
Buying a used tent trailer is a lot like buying a used car. The "sweet spot" is a lightly used, three year old model that is still in like-new condition, but has depreciated enough to offer a significant savings over a comparable new model. A quick search on Google™ for 'craigslist 2006 tent trailer' yielded three different models listed for $6,500 to $6,995 that I'm sure can be had for closer to $5,000. That is less than half of what these models would sell for, new. Can you go older than three years? You can, but I think you will find that the price does not drop significantly, unless the tent trailer needs a lot of work.
What to look for
The first thing to look for, when evaluating the condition of a tent trailer, is also the easiest to find: mold and mildew. The musty smell should be prevalent as soon as you step inside the unit but, if it is not, be sure to inspect all of the tent material anyway. The trailer may be spotless and shiny new, but the tent canvas will tell the real story of how well, or poorly, the owners took care of it.
If the canvas passes muster, then it's time to move on to the appliances. This is a tricky area to catch problems in, because the appliances operate off multiple power sources, and you have to test each one. We have some friends that recently purchased a pop-up tent trailer and, months later, discovered that their refrigerator only worked on AC power. They are looking at a $300 repair bill.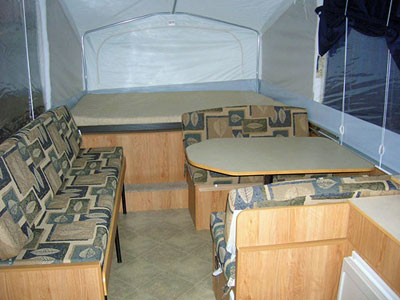 Once you've checked out all the appliances, it's time to run the sink for a few minutes, flush the toilet (if equipped with a holding tank) a few times, then crawl under the trailer and look for any leaks. Also, look for any significant rust (light surface rust may be normal, depending on your area) and any noticeable signs of damage. Finish up with a close inspection of the tires.
The tread should be fine, since the owners are probably selling it because they rarely used it, but look for uneven wear, which could indicate a bent or misaligned axle. A more common problem is UV damage in the sidewalls of the tires. Tires have a finite life of about five years, so even on a three-year-old trailer the tires may be nearing the end of their serviceable life.
At this point, you should have a good feel for the overall condition of the tent trailer. More than likely the owners are selling because they rarely used it, so any problems that you find are likely to be from lack of use, rather than use. Try to find several trailers that you like, before you make any offers. That way, you won't be disappointed if your offer gets turned down – just go on to the next one!
See also…