It sounds simple; dump a bag of crushed ice into the ice chest, put in the food and drinks and then if you are really serious, layer another bag of crushed ice on top. This works fine if you are going on a picnic, but simply tossing a couple bags of crushed ice into the ice chest is completely inadequate for even short weekend camping trips.
The key to an ice chest is, of course, the ice. But the key to ice is mass, since an object with greater mass will hold its temperature longer than a similar object with less mass. For this reason a big block of solid ice, instead of hundreds of small cubes of ice, will last much longer, even if the block of ice and the bag of crushed ice are the same weight.
Even with block ice, it takes a lot of it to keep an ice chest cool for longer than 48 hours. I use 1-gallon milk jugs for making my own block ice. It is not only cheaper than buying block ice, but the jugs hold the melting water next to the ice, which helps slow down the melting process. It takes four milk jugs to keep one of the "5 day" or "6 day" ice chests cool for three or four days, at 80ºF.
There are some other steps that you can take in order to extend the life of the ice, and this involves pre-cooling of both the ice chest and anything that you plan to put into it. Pre-cooling is brining the inside temperature of the ice chest down to 40ºF before putting your ice inside. This keeps a warm ice chest from rapidly melting your ice until the ice can cool the inside of the ice chest. I use several frozen milk jugs to do this, but not the ones that I will use for the camping trip.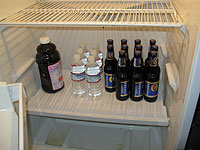 Warm food and drinks will also accelerate the melting of your ice, so it is important to pre-cool everything that you plan to put inside the ice chest. If you are camping for more than 3 days, it is a good idea to freeze food and perishable drinks, like milk, that you do not plan to use until later in the trip.
That is my system, but I am fortunate enough to have enough extra freezer space for 6 milk jugs of frozen water. How do you keep your ice chest going for the entire camping trip?
See also…