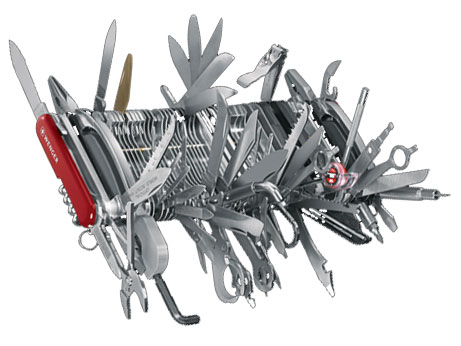 Joshua over at BoyandGirlScouts.com nearly caused me to spit coffee all over my keyboard at work yesterday morning, when he posted about the Wenger® Giant Knife. And yes, that is its actual name.
Like him, I first thought it was a joke, or a clever PhotoShop manipulation. It's real, though, and there is even a price on the product page of their website ($1,400 in case you were wondering).  Since I'm left with no reason to doubt its authenticity, I wonder what the point was, of even making the Giant Knife? Publicity?
Publicity is nice, but someone should tell them that the market has moved on. Companies like Leatherman are the innovators now, with their plier-centric designs. Even Victorinox, the parent company of Wenger, is makeing a plier-centric line of multi-tools.